6 ways to wear a blazer according to Korean fashion
Formal, casual, or quite relaxed are some of the many styles you can get by mixing a blazer with other clothes. Today, in Korean Fashion Trends, you will be able to discover the possible styles you can achieve with this piece because today we are talking about 6 ways to wear a blazer according to Korean fashion. We have to remember that the blazer never goes out of style, especially if you know how to combine it. And especially in Korean modern wear, blazer is a garment that you can use with elegant and sophisticated looks as well as with casual looks. And in recent years, the trend is to wear the piece with pants, dresses, and skirts. Why? Because a while ago, it detached itself from formality (on certain occasions) and allows irrelevant mixes. This garment, which originally corresponded to a masculine cut, jumped into women's closets to make them feel comfy and elegant. So if you want to expand your options when it comes to wearing a blazer, check out the 6 ways to wear a blazer according to Korean fashion. Let's get started!
Why should everyone have a blazer in their closet according to Korean fashion?
  The blazers are a wild card when dressing. Among its advantages, are the creation of distinguished and classy looks. Likewise, the blazer is synonymous with good taste.
Therefore having a blazer in your closet makes it easier to put together outfits, and fortunately, the passage of time does not diminish their prominence. On the contrary, those who have blazers in their closets have a garment that combines two essential concepts: fashion and style.
In addition, fashion encompasses the products that have become popular during a period and in a specific place. While the style groups the characteristics and details that differentiate a product from others. The blazer meets both criteria. So if you want to take advantage of your blazer, learn the ways to wear a blazer according to Korean fashion. If you want a Korean-style blazer, click here.
How do you wear a perfect blazer in Korea?
  Blazers are much more than trendy pieces. The way to test your adaptability is by wearing garments with the particularities that we propose in these 6 ways to wear a blazer according to Korean fashion. Let's see!
PATTERNS 
  We begin these ways to wear a blazer according to Korean fashion by mentioning the patterned blazers. Why? Because taking advantage of prints is another method to make an impact using blazers. What are the alternatives? The striped print. There is no black top that goes wrong with a striped blazer. This ideal outfit goes with heels as well.
Also, the zebra print is an excellent option because the good thing about this animal print in clothing is that it is not only displayed in black and white. Beige stripes captivate in blazers paired with high-waisted leggings under the jacket.
Another print that you can wear in a blazer is the Scottish one. This pattern is bicolor, usually black and white. It makes the perfect pair with plain blouses from a warm color range. Never combine this print with other prints. Buy your printed blazer here.
OUT-OF-THE-ORDINARY DESIGNS
  Out-of-the-ordinary designs are also a part of the ways to wear a blazer according to Korean fashion. A blazer doesn't have to be boring, especially if you choose designs that are groundbreaking and eye-catching.
Some of these models are oversized. Even though it might not be your exact size, XXL blazers in cold tones combined with colorful sweaters work perfectly. Another option is the blazers with buttons and shoulder pads. Wear this type of jacket with denim jeans.
And finally, another great blazer is the kimono. They are blazers inspired by the clothes worn by geishas. The kimono has a longer style than a traditional or modern blazer, and the clothing is made of soft textiles, daring prints, unicolor and fringes. You can style them in high-waisted shorts, simple skirts, or bikers. 
Also, you can buy this type of blazer here.
LOOK FOR MATCHING
  While it is possible to purchase a blazer as an individual garment, jacket and pant sets in the same design are also an option on the market.
Wearing a set of pants with a blazer is another of the perfect ways to wear a blazer according to Korean fashion.
In addition, the matching suit is functional because it provides formality if you wear it with heels or sandals, sophistication when wearing "ballerinas" and freshness when you show it off with sports shoes.
If you click here, you can buy a set with a blazer.
GO MINI WITH THE BLAZER
  It wouldn't hurt to wear a miniskirt to enhance the look of the blazer.
If you dare, the combination explodes wearing a white shirt and heeled ankle boots under the jacket. This combination is a way to get out of the routine pants.
If you want a new way to wear a blazer, you should consider this option among the ways to wear a blazer according to Korean fashion.
Buy your blazer here.
SAY YES TO CULOTTES
  A blazer with a crop top winks with culotte pants.
For this reason, it is part of the ways to wear a blazer according to Korean fashion.
As in most outfits, high heels are a hit in this combination to create a sophisticated business look.
Buy your blazer to accompany your culotte here.
WEAR DRESSES
  Wearing dresses is another great way to wear a blazer according to Korean fashion. In addition to being trendy, blazers also go with dresses perfectly well.
Try to make the jacket a completely different shade than your dress to evoke a wilder side of you. Strong blues match white dresses like a charm.
You can click here if you want a Korean-style blazer.
  You can buy Korean fashion clothing and accessories just by clicking here. In that way, you will be able to have the necessary clothes and accessories to elevate your look and stand out with a Korean style!
What jeans look best with a blazer according to Korean fashion?
  Flared pants are perfect to wear with a blazer!
In denim or other textiles, wide-leg or flared pants are successful and fun with blazers. Add heels, ankle boots, and even some tennis shoes.
Also, don't doubt the effectiveness of sports shoes and blazers.
It is the perfect combination because it is a formal garment combined with an informal one which gives a modern and new feeling.
Are blazers still in style in 2022 in Korea?
  Yes! Blazers are timeless, classic garments, and that is why they never go out of style. In 2023 you can wear a blazer in the best Korean style and stay on trend. For this reason, wearing a blazer according to Korean fashion will help you wear it in different ways so that you can elevate your style. However, remember that there is something you should keep in mind when combining a blazer: there are no limitations when doing so. Dare to experiment with styles that enhance your attributes. But above all make sure whatever you choose makes you feel comfortable. After all, that's what Korean fashion is all about, creativity, comfort, and style.
  The 6 ways to wear a blazer according to Korean fashion is perfect for those who love to wear a blazer but need other combination options to get the most out of it. If you try any of these style combinations, let us know in the comments. And remember that by subscribing to our newsletter you can keep up to date with our updates. That way you won't miss our offers in Korean fashion either. See you soon!
  If you're looking for the perfect place to shop for Korean-style clothing and accessories, today is your lucky day. But why? Because by clicking here, you can access the best discounts and offers in Korean fashion. Buy now!
Ways to dress a Blazer!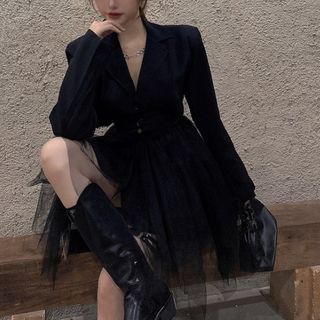 Single-Breasted Mesh Overlay Mini A-Line Blazer Dress – $41.20
from: YesStyle.com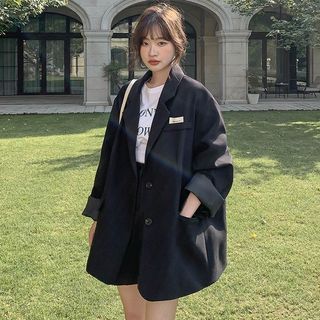 Plain Blazer – $35.40
from: YesStyle.com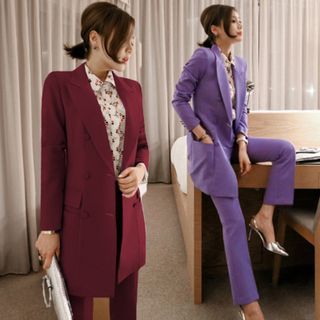 Set: Double Breasted Blazer + Slim-Fit Dress Pants – $60.40
from: YesStyle.com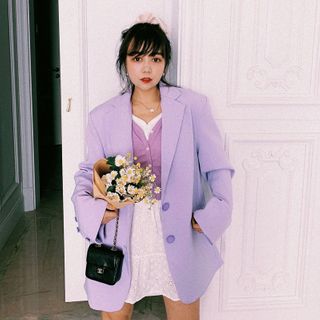 Plain Oversized Blazer – $58.80
from: YesStyle.com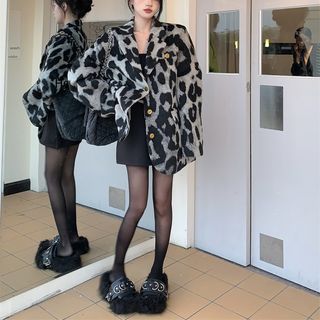 Leopard Print Blazer Leopard – Black & Gray – One Size – $54.30
from: YesStyle.com

Long Sleeve Single-Breasted Plain Blazer – $43.10
from: YesStyle.com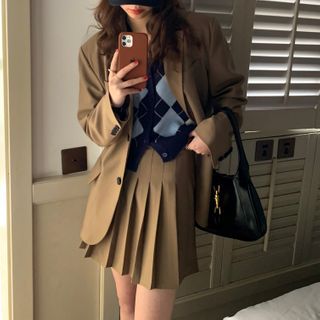 Plain Blazer / Pleated Skirt – $47.90
from: YesStyle.com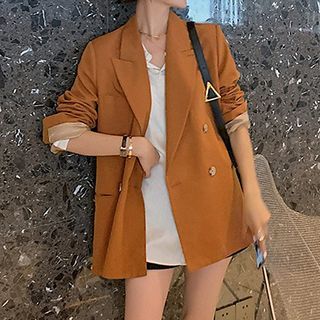 Plain Double-Breasted Blazer – $43.44
from: YesStyle.com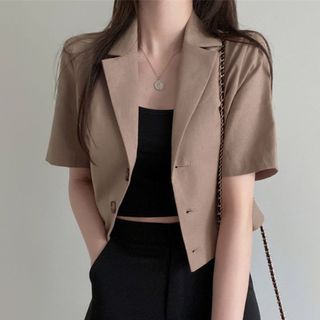 Short Sleeve Single-Breasted Blazer – $33.20
from: YesStyle.com

Plain Single-Breasted Blazer / Mini A-Line Skirt – $21.60
from: YesStyle.com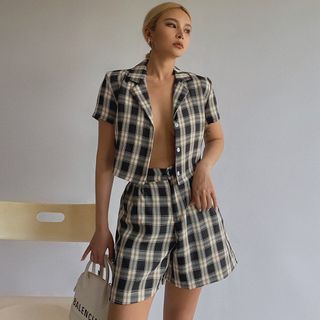 Cropped Plaid Chiffon Blazer – $32.20
from: YesStyle.com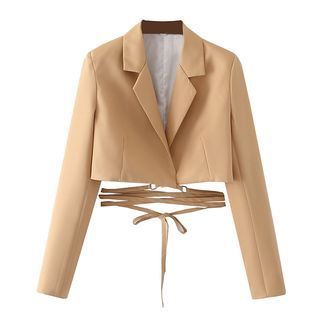 Cropped Blazer – $37.70
from: YesStyle.com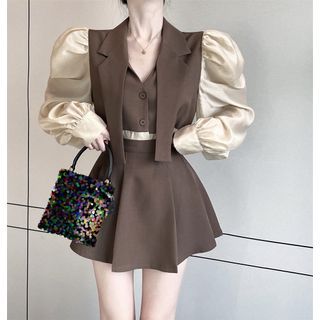 Set: Puff Sleeve Lapel Collar Cropped Blazer + High Waist Mini Skirt – $46.10
from: YesStyle.com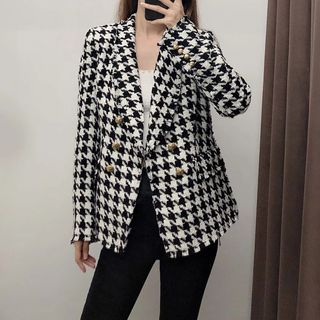 Double-Breasted Houndstooth Blazer – $35.36
from: YesStyle.com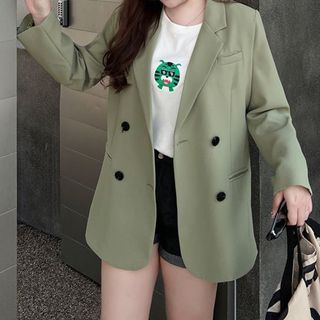 Double-Breasted Blazer – $53.80
from: YesStyle.com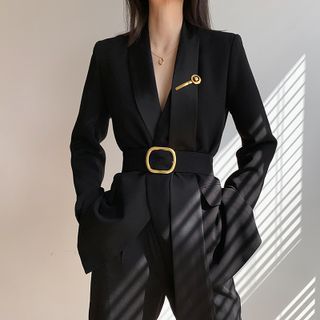 Plain Blazer – $66.90
from: YesStyle.com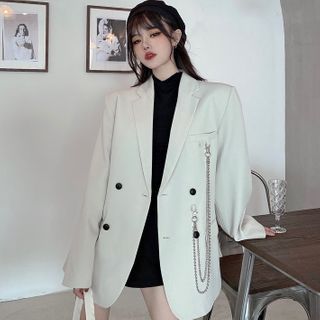 Double-Breasted Blazer – $39.10
from: YesStyle.com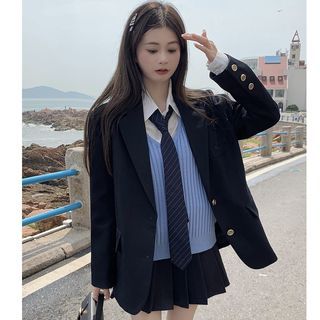 Single-Breasted Blazer / Long-Sleeve Shirt / Necktie / Pleated Mini A-Line Skirt / Sweater Vest / Set – $35.00
from: YesStyle.com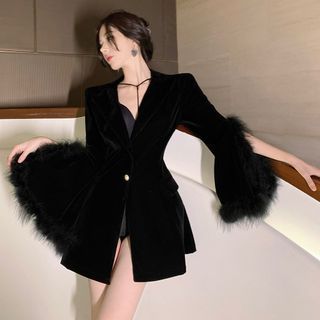 Plain Fluffy Trim Velvet Single-Button Blazer – $43.00
from: YesStyle.com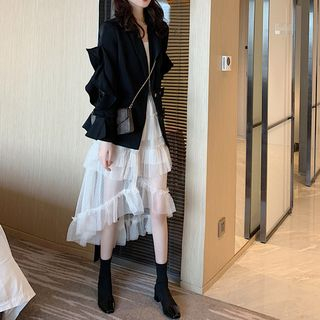 Plain Blazer / Midi Skirt – $42.00
from: YesStyle.com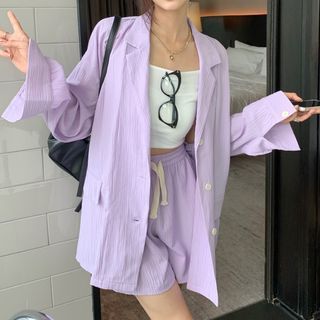 Plain Single-Breasted Blazer / Shorts – $33.80
from: YesStyle.com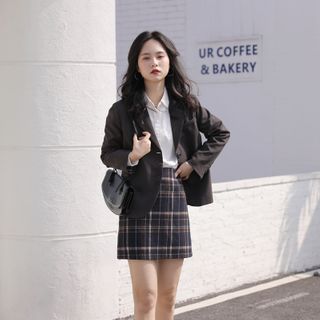 Plain Oversized Blazer – $41.80
from: YesStyle.com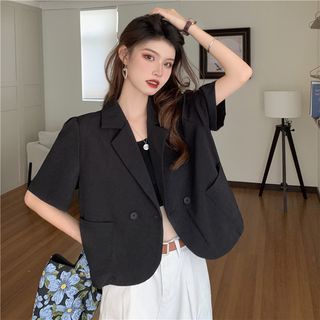 Short-Sleeve Double-Breasted Blazer – $32.80
from: YesStyle.com

Set: Collared Contrast Trim Double Breasted Blazer + High Waist Mini A-Line Skirt – $61.20
from: YesStyle.com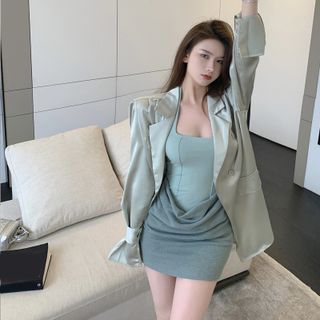 Halter-Neck Mini Bodycon Tank Dress / Blazer – $52.40
from: YesStyle.com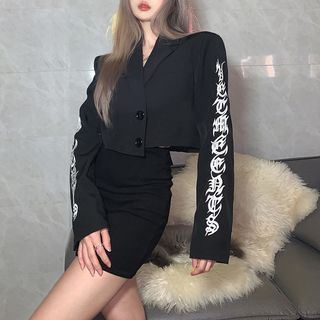 Embroidered Single-Breasted Cropped Blazer – $42.30
from: YesStyle.com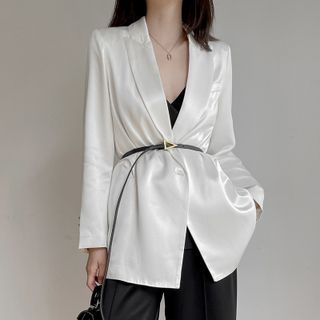 Plain Blazer – $74.50
from: YesStyle.com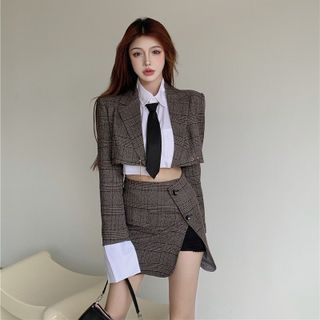 Plaid Cropped Open-Front Blazer / Crop Shirt / Mini Pencil Skirt / Set – $13.56
from: YesStyle.com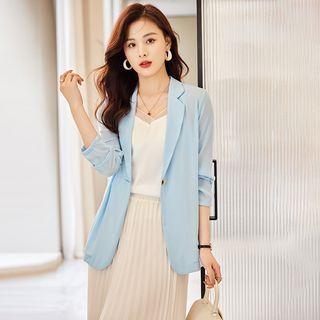 Single-Breasted Blazer / Camisole Top – $55.90
from: YesStyle.com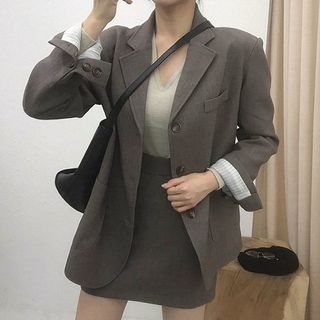 Set : Plain Single-Breasted Blazer & Skirt – $43.10
from: YesStyle.com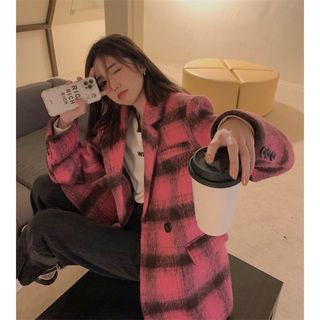 Plaid Double-Breasted Blazer – $52.20
from: YesStyle.com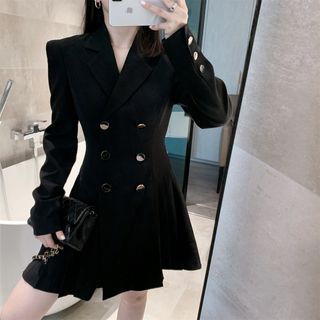 Double-Breasted Mini A-Line Blazer Dress – $71.10
from: YesStyle.com
https://www.koreanfashiontrends.com/wp-content/uploads/2023/01/Korean-fashion-trends-6-ways-to-wear-a-blazer-according-to-Korean-fashion.png
295
795
Scarled Andrade
https://www.koreanfashiontrends.com/wp-content/uploads/2021/06/KoreanFashionTrendsLogoColor.Medium.png
Scarled Andrade
2023-01-09 07:46:52
2023-01-11 08:52:33
6 ways to wear a blazer according to Korean fashion