Korean Fashionista's Guide: Sneakers With Dresses Done Right
Passionate fashion enthusiasts understand that fashion demands continuous innovation. True fashion lovers actively generate ideas that prioritize both comfort and good taste. Because that way, they get to feel free and express who they are through their clothes. Furthermore, they achieve this by crafting innovative proposals that harmonize fresh concepts with timeless styles. Consequently, they strike a flawless equilibrium between elegance and modernity. And today, we can seamlessly merge dresses with sneakers in modern fashion. This combination might have seemed unconventional in the past but has become exceptionally prevalent in our contemporary lives. So in this blog, we will unveil the Korean fashionista's guide to styling sneakers with dresses to learn more about this comfortable yet stylish combination. Stay on your favorite Korean fashion website and keep reading!
Can You Wear Sneakers With Dresses in K-fashion?
To understand how to style sneakers with dresses the right way, let's answer some questions to understand the combination of these two pieces. For a long time, people have questioned whether this combination is a success or a NO-NO in fashion. Thinking that comfort and style are at odds with each other. Our answer is a big yes! This combination is not only stylish, cute, and comfortable, but also very common in Korean style as well.
This look is definitely a winner in casual Korean fashion. Also just a favorite item for any Korean fashion lover. Because dresses are versatile pieces you can wear with just about any other item of clothing, footwear, and accessory. In addition, the combination of dresses and tennis shoes results in not only a stylish outfit, but also a very comfortable, fresh, and girly one. Don't know where to buy your Korean-style dresses? Simply click here!
Can You Wear Sneakers With a Midi Dress in K-Style?
If you want to style sneakers with dresses the right way in Korean fashion, a midi dress will be a complete must-have.
Additionally, midi dresses are irresistible in fashion, as they constitute an essential component of any summer wardrobe.
Moreover, when these midi dresses feature a slightly snug fit and floral patterns, they epitomize the quintessential style that embodies  "Korean Summer Fashion." They are ideal for fresh, stylish, and feminine looks. Not only can you mix them with sneakers, but you can also add other items to your outfits such as cardigans to give them an extra touch.
And, the same goes for accessories, which you should always have on hand to elevate any look. Accessories are so important to complete any look! Combine a midi dress with white sneakers, and show off your socks.
By doing so, you will be able to nail a casual, beautiful, comfortable, and feminine look. And, it doesn't matter if you don't have a Korean-style midi dress yet. If you click here, you can get the model of your choice at the best price. Take the opportunity!
May your wardrobe always be stocked with the trendiest summer looks! If you aspire to turn heads this summer, it's ideal to have a collection of Korean style clothing and accessories ready to turn the streets into your very own catwalk! You can shop for Korean fashion and beauty products here. The cherry on top? You can do it from the comfort of your home! And if you take advantage of the discounts, you will be able to buy everything you want on a budget! What are you waiting for? Click here to wear Korean fashion the right way now!
Can You Wear Sneakers With a Dress For a Business Casual Look in K-Fashion?
Another way to style sneakers with dresses the right way in Korean fashion is to wear sneakers with a business casual look. In Korea, this is a style that you will not only see in business settings, it is also an ideal style for a day-to-day look. Especially if you like sophisticated and minimalist looks.
Additionally, keep in mind that elegance can be a more steadfast companion than comfort. You can dress tastefully while prioritizing poise and refinement. Sneakers, due to their versatility, can be suitable for various occasions, whether it's a party, a picnic, a workday, a shopping spree, or a leisurely stroll. In fact, they can even be incorporated into a business casual style. Wondering how? Let's explore three tips to help you achieve this seamlessly.
    3 Tips to Achieve a Business Casual Look With Sneakers!
Wear contrasting colors with basic garments for an elegant yet simple look. Opt for simple pants, a tank top, and a sweater. Also, neutral colors are the best option for a business casual look. Shop here!
A perfect combination for a business casual style is a blazer, dress pants, and white sneakers. Don't be afraid of this outfit. Mix ideas and styles to achieve a modern and elegant look. For example, you can create a comfortable but elegant and casual outfit with a tailored suit, a white shirt, and sneakers. Shop here!
If you want to look feminine and comfortable, you should definitely try pairing your most favorite dress with your sneakers. You can achieve a more formal or informal outfit with this combination. Because there are many possibilities you can create. You can opt for fresh prints in summer colors or go neutral for a more formal look. This will provide you with elegance, resulting in very fashionable looks no matter what kind of vibe you go for. Do you want to try it as much as we do? If so, you can shop Korean fashion here to create the look of your dreams.
How to Style Sneakers With a Dress in Korean Fashion?
It is time to learn about combinations that will help you style sneakers with dresses the right way in Korean fashion. Ready? Find a pencil and paper because you will want to take note of the following looks. Let's dive in!
LOOK 1
The first look to style sneakers with dresses the right way in Korean fashion includes a short white dress. If the skirt is a little baggy, it will be better. Add a jean jacket on top and give this outfit a touch of color with baby blue sneakers.
But, what kind of accessories you should opt for? The ones of your preference, of course! A bucket hat and some sunglasses could be a good option. Shop Korean-style clothes here to get this look now!
LOOK 2
The following outfit to style sneakers with dresses the right way in Korean fashion is more basic but no less special. Combine a short blue floral dress with white chunky shoes. You can show your socks for an extra touch. And add a beige canvas tote bag to complete the look. Shop here!
LOOK 3
Continuing with the outfits on how to style sneakers with dresses the right way in Korean fashion. This time, let's use a little more creativity. When it comes to fashion, creativity is essential. So you can innovate your looks and elevate basic outfit with just a few touches or accessories.
So, combine a white oversized pullover with a white long-sleeved shirt, and add some white sneakers. This is a look that could fit into the old money or preppy style easily as well. Shop here!
LOOK 4
Another infallible combination to style sneakers with dresses the right way in Korean fashion is layered looks.
Consider combining a lilac midi dress with a black short-sleeved shirt. And add some white or black sneakers.
And, perfect your look with accessories. Opt for a tote bag, earrings, necklaces, or any other accessory that comes to your mind. You can achieve this style by shopping for Korean fashion here!
LOOK 5
And finally, our last recommendation to style sneakers with dresses the right way in Korean fashion is focused on the business-casual style. This combination is a good option not only for work, but also for a chic night out with your friends. Combine a lilac dress with a basic white shirt, and a lilac oversized blazer. You can also create this combination with shorts and dress pants. Add some white tennis shoes, and a beige tote bag. Buy everything you need to achieve this look here!
How to style sneakers with dresses the right way in Korean fashion? Sporting dresses with sneakers is undeniably one of the top fashion trends for warmer days. It exudes a fresh and effortlessly chic appearance. You can start with the basics and gradually incorporate additional details to refine your outfits further.
With creativity and the right clothes, you can achieve combinations with dresses and tennis shoes that are perfect for day-to-day wear.
Do you like this combination? Tell us in the comments. Remember that you can subscribe to our newsletter to stay connected with our news updates and discounts on Korean fashion.
Also, we hope you'll follow us on Facebook, Instagram, Twitter, Pinterest, YouTube, Spotify, Tiktok, and Twitch. See you in the upcoming Korean fashion trends blog!
Did you know that you are just one click away from achieving the style of your dreams? You heard that right! If you click here, you can buy Korean fashion items at crazy prices. In addition, you will not only find discounts on Korean-style clothing and accessories. But, you will also find deals on Korean beauty products. That way, you will have the best of the best of Korean aesthetics. Don't miss the opportunity. And shop here now!
Style Your Clothes With a Pair of Sneakers Now!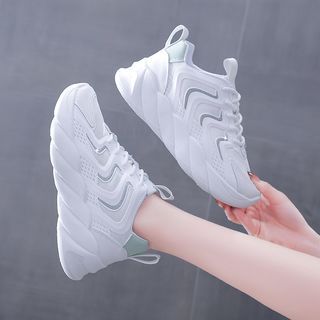 Platform Lace Up Sneakers – $29.80
from: YesStyle.com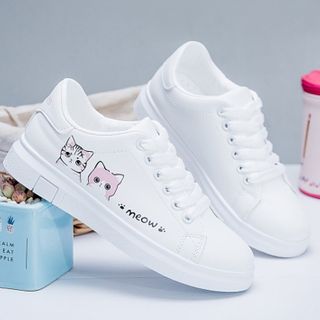 Cat Print Sneakers Gray Cat – White – 38 – $29.30
from: YesStyle.com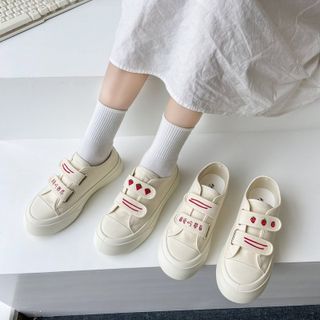 Fruit Print Adhesive Strap Platform Sneakers – $29.50
from: YesStyle.com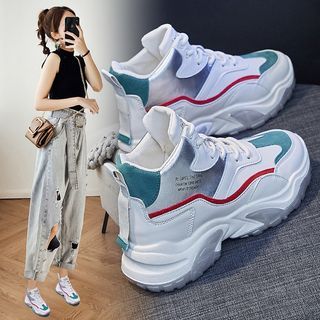 Platform Lace Up High Top Sneakers – $26.70
from: YesStyle.com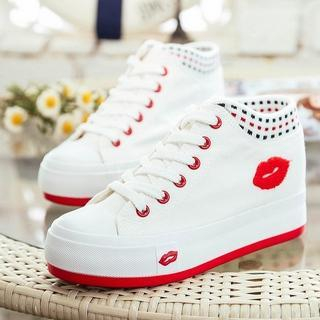 Lip-Applique High-Top Sneakers – $26.60
from: YesStyle.com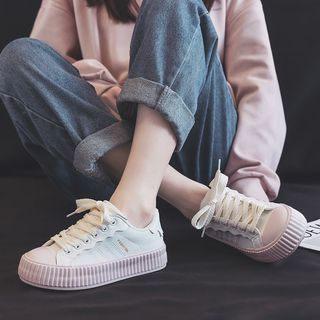 Platform Panel Canvas Sneakers – $26.40
from: YesStyle.com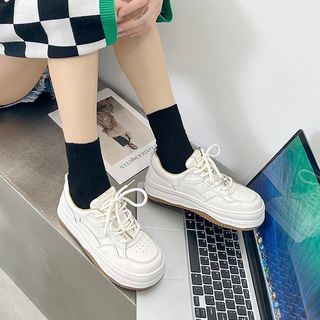 Platform Panel Sneakers – $37.60
from: YesStyle.com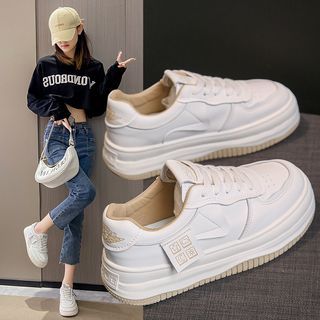 Lace-Up Applique Platform Sneakers – $32.80
from: YesStyle.com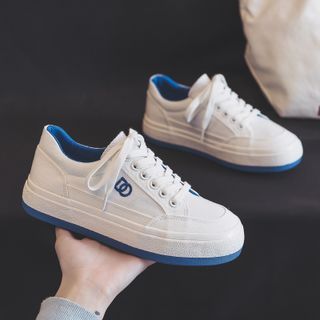 Lace-Up Sneakers – $32.40
from: YesStyle.com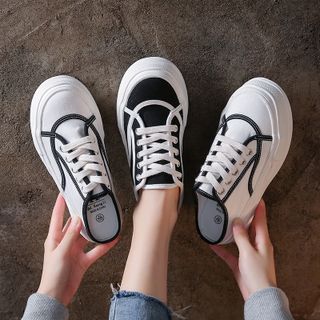 Two Tone Sneakers – $27.60
from: YesStyle.com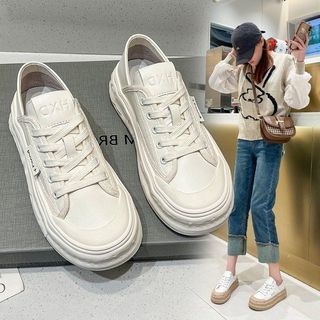 Lace-Up Platform Sneakers – $29.50
from: YesStyle.com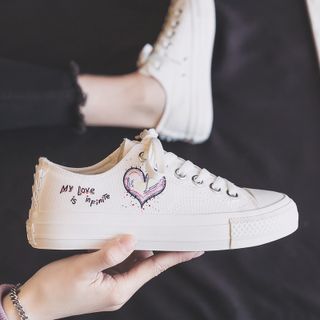 Heart Print Canvas Sneakers – $31.50
from: YesStyle.com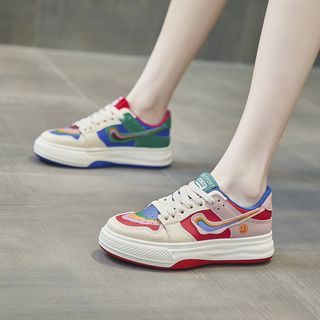 Platform Panel Sneakers – $30.80
from: YesStyle.com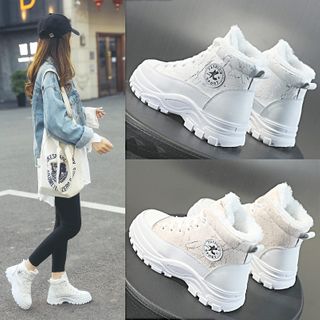 Faux-Leather High-Top Sneakers – $26.60
from: YesStyle.com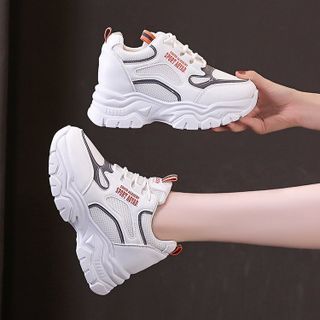 Mesh Panel Hidden-Wedge Platform Sneakers – $24.80
from: YesStyle.com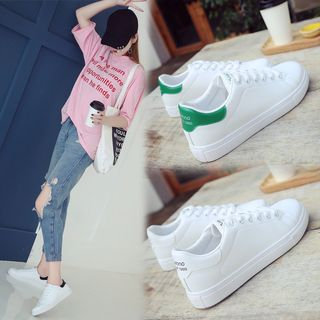 Faux-Leather Sneakers – $25.30
from: YesStyle.com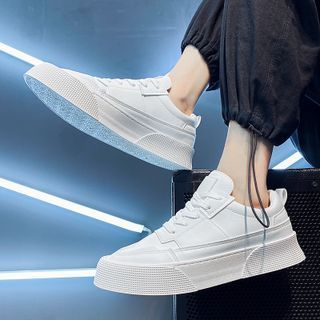 Platform Lace Up Sneakers – $34.20
from: YesStyle.com
https://www.koreanfashiontrends.com/wp-content/uploads/2023/07/Korean-fashion-trends-How-to-style-sneakers-with-dresses-according-to-Korean-fashion.png
295
795
Scarled Andrade
https://www.koreanfashiontrends.com/wp-content/uploads/2021/06/KoreanFashionTrendsLogoColor.Medium.png
Scarled Andrade
2023-07-07 15:21:36
2023-09-06 14:10:39
Korean Fashionista's Guide: Sneakers With Dresses Done Right