Let's Get to Know ENHYPEN Jay's Style
Let's Get to Know ENHYPEN Jay's Style! Today, let's return to our Korean celebrity style sectio! And discover the style of one of the ENHYPEN members. Are you an ENHYPEN fan? If so, you are in the right place. Today, you will not only get to know Jay's style, you can also count on important information such as key garments to achieve his style. Furthermore, we will also review the idols career that captivates fans. And explore his undeniable talent and style. Are you ready? Let's dive in.
Who Is ENHYPEN's Jay?
As always, before diving into the style of a Korean celebrity, we will first talk a bit about who he is. So, let's discover Jay as an artist before diving into ENHYPEN Jay's Style. 
Jay is a member of the South Korean boy group 'ENHYPEN', which formed through the music survival reality show 'I-Land'. ENHYPEN made their debut on November 30, 2020, with their first mini album titled 'BORDER: DAY ONE' under the BELIFT Lab label. And Jay Park maintains the official positions of rapper and dancer. But, before participating in the show "I-Land", he was a trainee under Big Hit Entertainment for two years and eleven months.
His first performance on the show was NCT U's, ''The 7th Sense.'' And he was the second most-voted member.
Jay is full of energy and likes to make others laugh. So that vibrant and contagious personality carries over to his style. Therefore, his looks are always inspiring.
What Is ENHYPEN Jay's Style Like?
If we need to define ENHYPEN Jay's Style, maybe the correct term would be avant-garde and old money. Jay seems to be used to wearing formal attire that is clean and nice to look at. However, (as a true fashion lover), he is not afraid to experiment. He has never resisted wearing new styles and blending them with his own.
Thanks to that, we frequently see him sport street style. As well as rock chic style T-shirts and sweaters. But, just as we have Jay as a benchmark for current Korean fashion and K-Pop fashion, he also gets his inspiration from someone else. In an interview, Jay revealed that, in addition to the old money style, his favorite style is well-known as "rock chic." However, he didn't take on the trend until his fashion inspiration, BTS Jimin, rocked the look and inspired him to experiment.
Jay explained that he changed his mind about his style when he saw how Jimin implements his unique fashion taste. "Through his streetwear, I realized that Korean charm can be in rock chic," Jay commented. Let's remember that, Jimin is known for his edgy yet chic airport fashion that incorporates trends into his unique aesthetic. Jay revealed that as a fashion lover, his passion for clothing extended beyond a superficial level ever since he was young. And he stated that he wants to help build a culture that encourages everyone to wear clothing based on their thoughts and beliefs without discounting individuality or blindly copying celebrity outfits. And yes, his old money and rock-chic style are inspiring, but his fashion intent is even more captivating.
Remember that you can elevate your style by taking inspiration from ENHYPEN Jay's Style. And, if you still don't have the necessary clothes, click here to get everything you are looking for at the best prices. Take advantage of the K-fashion offers you can only find here at Korean Fashion Trends!
5 Must-Have Garments to Achieve ENHYPEN Jay's Style 
So, let's continue to get to know ENHYPEN Jay's Style. However, first, it is necessary to know the must-have garments to recreate ENHYPEN Jay's Style properly. Let's take a look:
MUSCLE SHIRTS
If you work out, there is no doubt that you would want to flex a little. So, these muscle shirts are the star garment of ENYPEN Jay's Style.
Furthermore, the muscle T-shirt is perfect to wear during the summer! 
Jay pair his muscle shirt with jeans or baggy pants. And it's a look that works for his rock-chic style he loves to wear.
Shop your muscle shirt here.
BUTTON-DOWN SHIRT
Button-down shirts are another must-have to achieve ENHYPEN Jay's Style. Especially if you want to recreate his old money style.
He knows what goes well with casual outfits. But, he also seems comfortable in formal ones. Because he is very used to it. And he loves to pair these button-down shirts with pants.
For example, on one occasion, he wore a gray button-down shirt tucked into black pants and paired the look with a belt. Which created a tastefully executed old money-style look.
Don't know where to buy a shirt of this style? Click here!
JEANS
Of course, jeans are a must if you want to recreate ENHYPEN Jay's Style.
Why? Because Jay also likes to wear denim jeans.
He likes to wear tight or loose jeans. It just depends on what type of outfit he wants for that day.
For example, on one occasion, he wore an all-black outfit. He combined skinny black jeans with a long sleeve and boots. And this is daring yet casual look you can recreate.
Don't forget that you can buy your black jeans here.
BLAZER
Blazers also stand out in ENHYPEN Jay's Style because of how much he enjoys the old money style. So naturally, blazers are definitely a part of that.
However, regardless of the style, he knows how to make the most out of this garment. So, we frequently see Jay carry a look with blazers like a boss.
He pairs his blazers pants, over shirts, vests, and button-down shirts. ENHYPEN Jay's style proves that blazers have endless possibilities.
For example, Jay wears checkered blazers over his black shirt and pairs it with a beanie. Shop your blazer here.
JERSEY
Jerseys are a must-have in Jay's wardrobe.
Also, if blazers are not for you, you can always opt for something lighter like jerseys.
Jay wears jerseys in many of the outfits he shares on social media.
He usually combines them with pants, complementary to sweaters that are light and flowy.
You can find Korean-style jerseys by clicking here.
3 Looks to Recreate Inspired by ENHYPEN Jay's Style
After knowing the elements that stand out the most in ENHYPEN Jay's Style, it's time to know three combinations you can easily recreate. So, here we go!
LOOK 1
You need black jeans for this first look that will bring you closer to ENHYPEN Jay's Style. You can combine it with a white shirt and a blue button-down shirt on top.
Also, add a jean jacket. You can combine this look with sneakers or combat boots. And, although we didn't say it before, accessories are essential to achieve ENHYPEN Jay's style.
Whether it's glasses, caps, bucket hats, rings, or earrings, all of them are a good option.
In this case, you can add some rings, and maybe a baseball cap. Shop here to recreate this outfit.
LOOK 2
The next look to achieve ENHYPEN Jay's Style includes a jumper.
Combine it with a white shirt and jeans.
Add a converse, and finish the look with a bucket hat.
Buy what you need to achieve this outfit here.
LOOK 3
And finally, if you want to try out ENHYPEN Jay's Style and get closer to his rock chic style, we recommend you to mix some jeans with a muscle T-shirt with a graphic print.
Add converse shoes and the accessories you prefer. Buy here!
ENHYPEN Jay's Style is perfect for those who think they can adapt to any style or for those who can mix and match without a problem. If you are a fashion lover like Jay, wearing an old-money style but also a rocker-chic one will not be a problem.
What do you think of ENHYPEN Jay's Style? Tell us in the comments! And don't forget to subscribe to our newsletter. Also, follow us on Facebook, Instagram, X, Pinterest, YouTube, Spotify, TikTok and Twitch! See you in the next blog post of your favorite Korean fashion blog!
Achieving ENHYPEN Jay's Style is easy with KFT. If you want to recreate the style of this fashion icon, click here. That way, you will get the best discounts and offers on Korean fashion! And you can buy everything you need without breaking the bank. Don't lose this chance! Shop now.
Take Rock-Chic to the Next Level!

Distressed Skinny Jeans – $25.70
from: YesStyle.com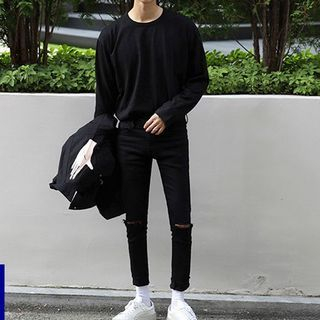 Distressed Skinny Jeans – $30.24
from: YesStyle.com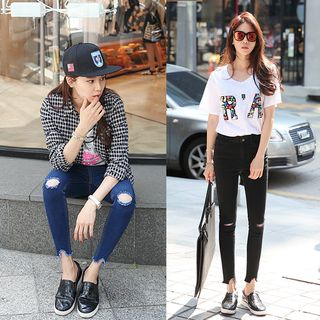 Distressed Skinny Jeans – $26.80
from: YesStyle.com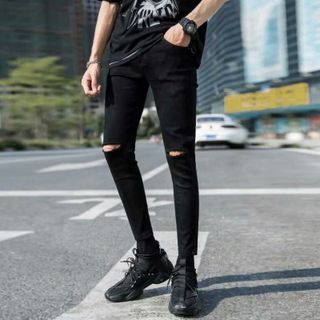 Distressed Skinny Jeans – $21.80
from: YesStyle.com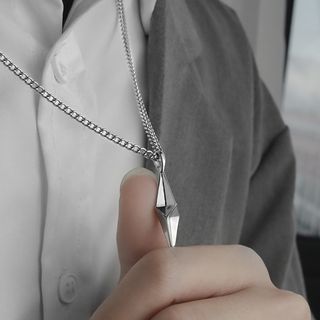 Star Sterling Silver Pendant / Stainless Steel Necklace / Sterling Silver Necklace / Set – $32.30
from: YesStyle.com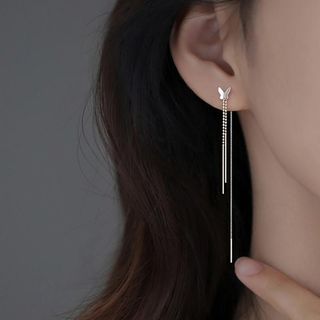 Butterfly Chain Sterling Silver Drop Earring 1 Pair – Silver – One Size – $5.60
from: YesStyle.com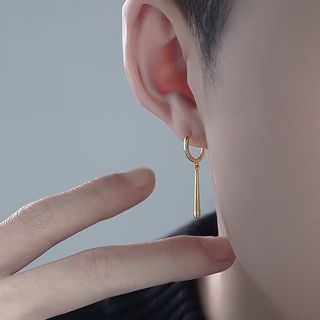 Sterling Silver Drop Earring – $14.00
from: YesStyle.com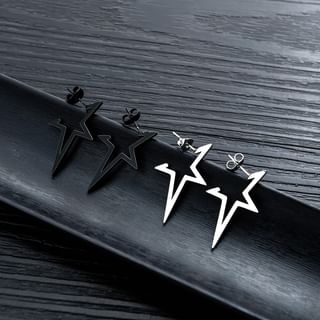 Stainless Steel Star Earring – $3.60
from: YesStyle.com
https://shareasale.com/r.cfm?b=61830&u=2842785&m=10669&urllink=www%2Eyesstyle%2Ecom%2Fen%2Fmoon%2Dcity%2Dshort%2Dsleeve%2Dcollared%2Dbutton%2Dup%2Dblouse%2Finfo%2Ehtml%2Fpid%2E1099959311&afftrack=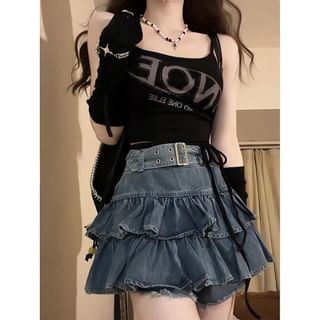 Layered Denim Mini Skirt – $20.72
from: YesStyle.com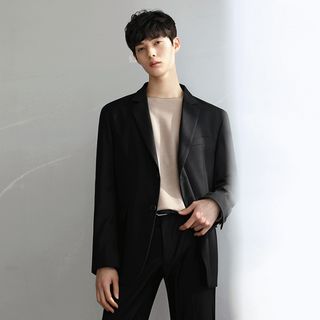 Single-Breasted Blazer / Straight Leg Dress Pants – $41.04
from: YesStyle.com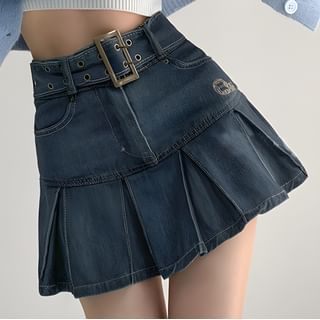 High Rise Belted Denim Mini A-Line Skirt – $21.12
from: YesStyle.com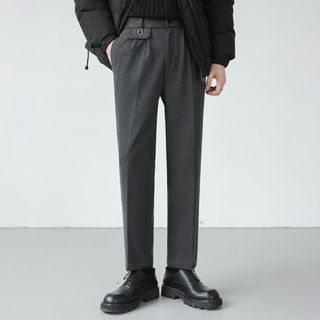 High Waist Straight Leg Dress Pants – $37.60
from: YesStyle.com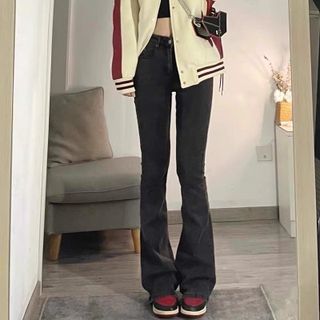 High Waist Flared Jeans – $31.90
from: YesStyle.com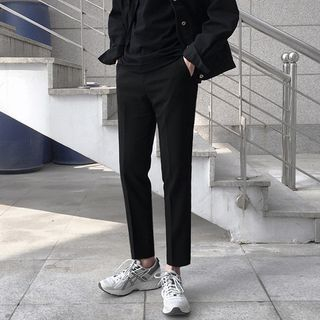 Plain Straight Leg Dress Pants – $26.24
from: YesStyle.com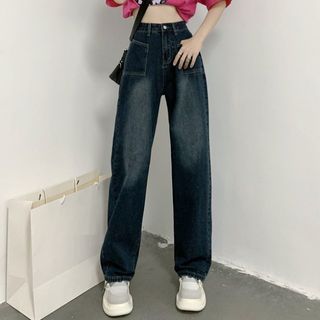 High Waist Wide Leg Jeans – $29.70
from: YesStyle.com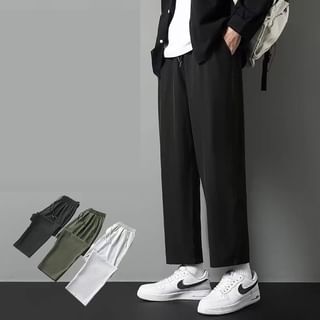 Mid Rise Plain Cropped Tapered Pants – $16.40
from: YesStyle.com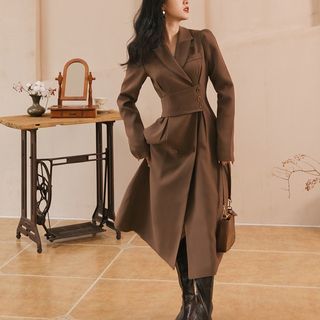 Long-Sleeve V-Neck Plain Mini Blazer Dress / Midi Blazer Dress – $67.20
from: YesStyle.com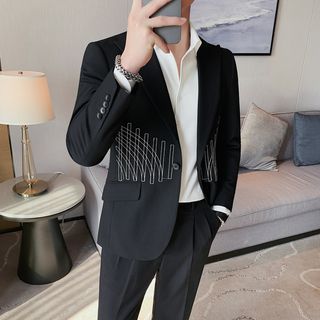 Embroidered Single-Button Blazer / Peak Lapel Plain Blazer – $89.00
from: YesStyle.com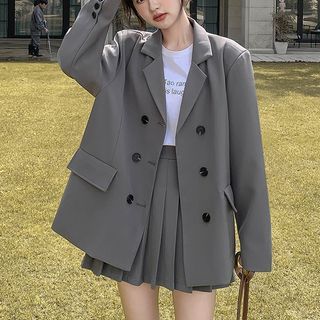 Set: Double-Breasted Blazer + Mini Pleated Skirt – $73.70
from: YesStyle.com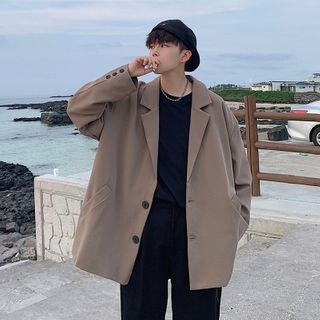 Plain Blazer – $47.80
from: YesStyle.com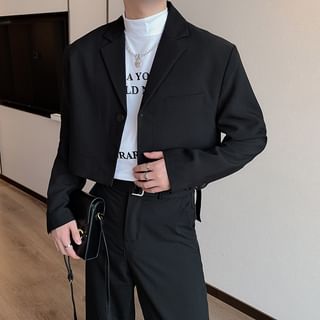 Single Button Cropped Blazer – $40.00
from: YesStyle.com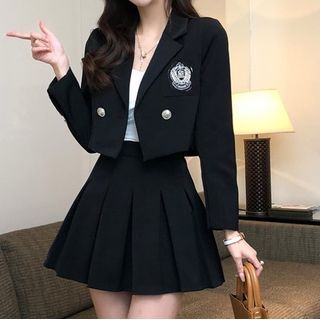 Set: Cropped Blazer + Pleated Mini A-Line Skirt – $53.70
from: YesStyle.com
https://www.koreanfashiontrends.com/wp-content/uploads/2023/05/Korean-fashion-trends-Let_s-get-to-know-ENHYPEN_s-Jay_s-style.png
295
795
Scarled Andrade
https://www.koreanfashiontrends.com/wp-content/uploads/2021/06/KoreanFashionTrendsLogoColor.Medium.png
Scarled Andrade
2023-05-08 14:00:44
2023-11-14 11:57:06
Let's Get to Know ENHYPEN Jay's Style