The KFT Verdict on Korean Pop Star's Favorite Sneakers
New day, new blog about the hottest trends in Korean fashion! On this occasion, we will unveil everything about Korean Pop Star's Favorite Sneakers. Sneakers are one of the most versatile shoes since they can accompany a sporty or streetwear look, but also a casual and chic one. In addition, they are so comfortable that they are one of the favorite shoes among many fashion lovers. As a result, we see sneakerheads resurfacing everywhere! Whether you are one of them or just like this footwear, stay with us! Because the Korean Fashion Trends team has prepared this little guide so you can get the most out of your sneakers not only this fall but also for the rest of the year! Are you ready? Let's dive in to discover Korean Pop Star's Favorite Sneakers!
Are There Sneakerheads in Korean Fashion?
Korean Pop Star's Favorite Sneakers are resounding evidence that sneakers are a great footwear choice in Korean fashion. Based on the closets of many K-pop idols, we can discover more than one sneakerhead. But do you know what this term means? In short, it refers to all people who are passionate about sneakers.
Collecting sneakers is a passion for these sneaker enthusiasts. Lately, many have claimed that to be a sneakerhead, you need to buy many pairs of expensive sneakers, collaborations, and other luxury sneakers. However, this is not true. To be a sneakerhead, you need to know about sneakers, have a pair of high-quality and original sneakers, discover your style, and understand that quality is more important than quantity.
You can buy sneakers from Korean brands by clicking here! That way, you can style your sneakers with Korean-style looks from head to toe! This year, dare to rock your outfits with the best sneakers!
How to Shop Sneakers Right This Fall in Korean Fashion?
In fashion's versatile landscape, there are many sneakers that are essential or a classic. But today, we will discuss which sneakers you should shop for if you're looking to buy a brand new pair. Moreover, sneakers are not only versatile and comfortable. They are also stylish and suit every style seamlessly.
Apart from 2023's favorite sneakers like Adidas samba, the ever-loved New Balance 550, and the classic Converse chuck 70, which every idol loves by the way, many other sneakers are part of Korean Pop Star's Favorite Sneakers. However, each of them fit the styles of these idols, so if you also aim for success when styling your sneakers, consider having a consolidated style. This way, you can wear sneakers easily and be one step closer to being a sneakerhead!
Whether you want to buy sneakers, clothing, or Korean fashion accessories, you have the chance to check out YesStyle's offers here! Plus, you can also buy Korean beauty products here. Don't miss the opportunity for crazy sales. Shop today!
What Is The Most Iconic Sneaker Ever?
When we talk about sneakers, we can't ignore this question. What is the most iconic sneaker ever? Many could say it is the Nike Force 1, and although they are certainly also iconic shoes, another sneaker takes its place as the most iconic.
The 1970 Chuck Taylor may be the most iconic sneakers of all time! The model has undergone a game-improving redesign with premium bindings, improved stability, and modern comfort.
The Chuck 70 is now known as a classic shoe that every sneakerhead must have in their collection. which is why we can also see it among Korean Pop Star's Favorite Sneakers! If you also want basic and timeless sneakers, the Chuck Taylor 70 is a total must-have!
Who's Wearing What in K-Pop Fashion in Today's Sneaker Verdict?
It's time to meet the Korean Pop Star's Favorite Sneakers! Remember, each Idol has a unique style that plays a fundamental role in styling sneakers. As we said at the beginning, you must have a defined style, whether you are a sneakerhead or not. Because you can create more accurate combinations when you are clear about the style that defines and identifies you. With that being said, let's get to know the sneakers that K-pop idols are wearing this season!
BlackPink
BlackPink members are ambassadors for the biggest fashion houses in the world like Chanel, YSL, Celine, and Dior. Although we often see the BlackPink girls sport high-fashion couture pieces, they are also just humans like us. Which means comfort is the priority when it comes to sneakers.
Jennie, Lisa and Rose can be seen sporting the Autry Medalist sneakers in two-tone. The girls opt for the low and mid versions of the Autry sneakers, especially in blue and green colors. Besides this, there have been multiple occasions where we could see the BlackPink members sport the Adidas Astir, and Adidas Forum Bold shoes. Both are perfect day to day shoes that go with everything!
BTS
Just like BlackPink, BTS members are also faces of renowned global fashion brands. But, the boys love to wow with their Nike dunk lows in various colors. Most fashion enthusiasts are up-to-date when it comes down to Nike's sneaker drops. So, the KFT team got their hands on one of the latest drops from Nike. The Nike SB dunk low x Albino & Preto in Pearl White reflects the vibrant world of skating with colorful layers hidden in the shoe.
The perfect blend between jiu jitsu and skating comes into union for you to skate down the streets with confidence. The KFT Verdict? Totally worth it. Apart from the various Nike shoes the BTS members have been seen sporting, they also often incorporate high-fashion brands in their footwear choices. Because the rappers of the group often sport Louis Vuitton sneakers such as Triple S or the Runner Tatic.
LE SSERAFIM
We all know that the LE SSERAFIM girls love to experiment with their style. But their sneaker choices are on the classic and safe side. There are multiple occasions they could be seen sporting the Converse Run Star Hike Platform sneakers, just like Jennie or any other idol really. Furthermore, Chaewon loves her Air Jordan's, the K-pop star incorporated ''Air Jordan 1 low – Gray fog'' in multiple instances.
On the other hand, Sakura added a fun twist to her outfit with her Air Jordan 1 mid's in Gym Red and Black. As well as Nike's legendary sneaker dunk lows in ''University Red.'' So, what is the KFT Verdict? You can't go wrong with the classic cuts. All these sneakers are a resounding yes! So, make sure to incorporate a fun sneaker in a classic cut in your wardrobe that you can combine with everything!
New Jeans
The KFT Verdict on Korean Pop Star's Favorite Sneakers. Fairycore outfits are not the only thing New Jeans sport on a daily basis. The New Jeans members are also known for their off duty looks, where they often bring a street-style flair to their ensembles.
Furthermore, we have also commented on how New Jeans were spotted wearing the Nike x Comme Des Garçons Homme Plus Terminator's in this blog. But, it is easy to catch them in various different styles of Nikes in practice videos. For example, New Jeans member Hanni was spotted wearing the Nike x Travis Scott Air Jordan 1 low in olive, while Hyein sported the Air Jordan 1 ''mid'' Pandas. So, New Jeans members are also on the wagon of sneaker lovers just like other groups!
How to Style Sneakers in Korean Fashion?
Since we finally got to know Korean Pop Star's Favorite Sneakers, it's time to discover how you can style this versatile shoe like a Korean fashionista. While some may consider it a breeze, the truth is that there are tricks behind it. You should be aware of them to combine this footwear like a Korean fashion expert. Moreover, mastering the art of styling sneakers is a must for any trendsetter. Whether you're going for a casual look or dressing up for a night out, here's how to style sneakers like a pro in Korean Fashion!
Keep it Classic With Denim
There's something timeless about pairing sneakers with a classic pair of jeans. Opt for baggy jeans or straight-cut denim that complements the silhouette of your sneakers. Also, high-top sneakers work great with skinny jeans, while low-tops match well with a relaxed fit! Shop here.
Dress Up With a Skirt
Don't be afraid to break the norm and pair your favorite sneakers with a skirt or dress. This chic and comfortable combo is perfect for a laid-back yet stylish look. A mini skirt or a blazer dress can be instantly elevated with the right sneakers. Add a statement accessory, and you're good to go! Shop here.
Elevate Your Work Wear
Surprise everyone at the office by pairing your tailored trousers or suit with sneakers. This blend of formal and casual creates a unique and confident style. Just ensure your sneakers are in pristine condition for a sleek and professional look. Shop here.
Monochrome Treat
A monochrome outfit can be elevated with a bold pair of sneakers. Choose sneakers in a vibrant color that pop against your neutral-toned clothing. It's a simple yet effective way to make a statement. However, styling sneakers is all about creativity! So, take out your statement accessories and start experimenting by adding beanies, trendy colors like red, shoulder bags, and urban-style garments! Shop here.
Korean Pop Star's Favorite Sneakers show us that these shoes were, are, and will continue to be a complete must-have in Korean fashion!
Even though sneakers are versatile and comfortable, knowing your style and exploring your creativity will be relevant factors for sneakers to be a secret fashion weapon! Are you already subscribed to our newsletter? If not, remember that you still have time to do it. Because in this way, you can receive notifications of each of our updates. Also, you can follow us on Facebook, Instagram, X, Pinterest, YouTube, Spotify, TikTok, and Twitch to enjoy more of our content. Don't miss it! See you in the next blog of your favorite website!
You can shop for Korean fashion and beauty items here! Enjoy YesStyle's crazy prices right now! Here, you can see the catalog and make Korean fashion purchases to elevate your style!
The best sales in shoes!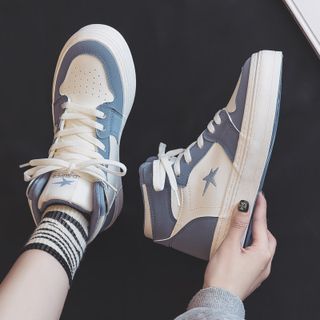 Color Block Sneakers / High-Top Sneakers – $36.60
from: YesStyle.com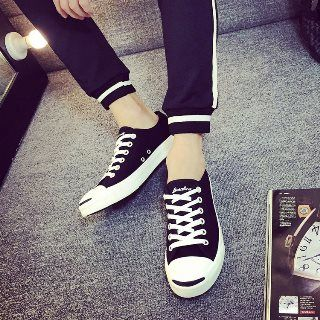 Faux-Leather Sneakers / Canvas Sneakers – $31.90
from: YesStyle.com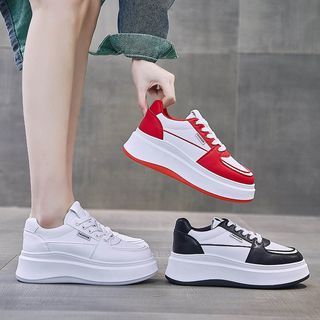 Platform Panel Sneakers – $31.70
from: YesStyle.com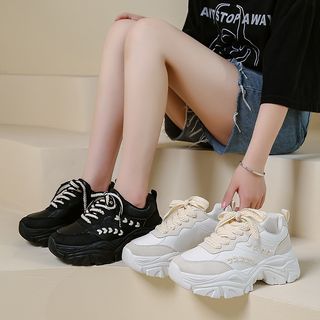 Platform Sneakers – $31.10
from: YesStyle.com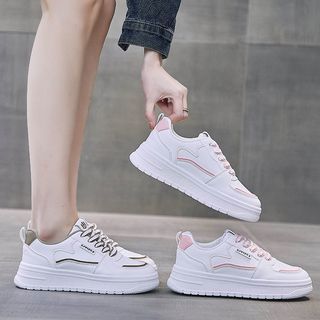 Two Tone Platform Panel Sneakers – $30.60
from: YesStyle.com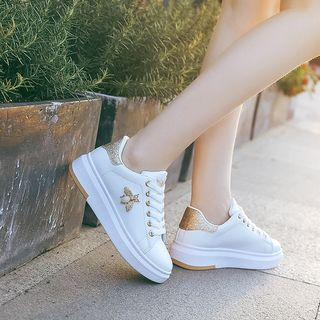 Faux-Leather Sneakers – $30.10
from: YesStyle.com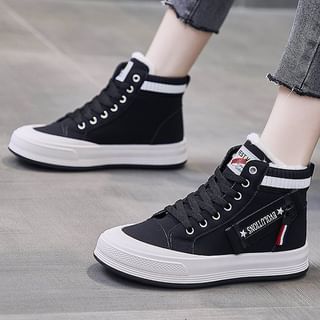 High Top Platform Lace-Up Sneakers – $25.92
from: YesStyle.com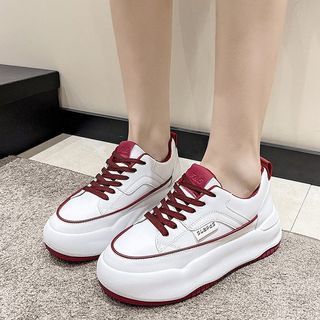 Platform Lace Up Sneakers – $33.00
from: YesStyle.com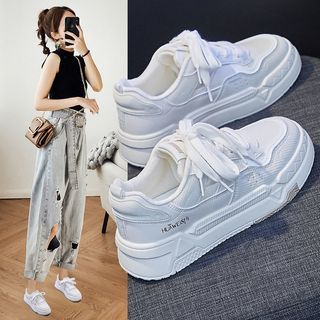 Platform Lace Up Sneakers – $31.40
from: YesStyle.com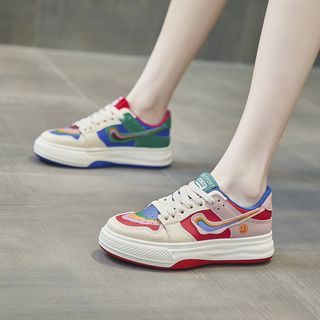 Platform Panel Sneakers – $31.90
from: YesStyle.com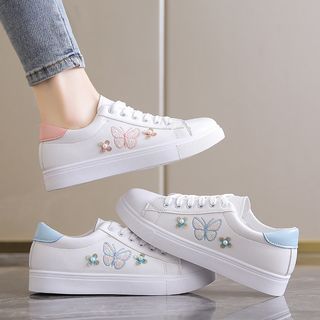 Butterfly Lace Up Sneakers – $24.20
from: YesStyle.com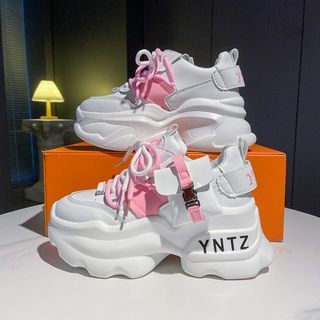 Faux Leather Platform Lettering Pouched Sneakers – $45.90
from: YesStyle.com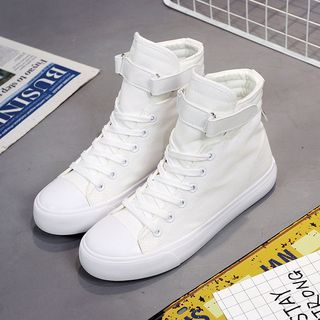 Paneled High-Top Couple Matching Sneakers – $31.50
from: YesStyle.com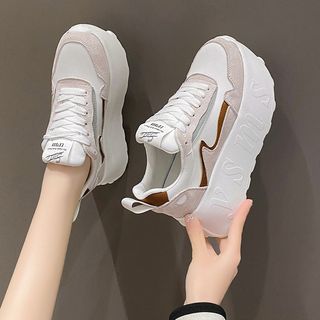 Wedge-Heel Lettering Sneakers – $40.30
from: YesStyle.com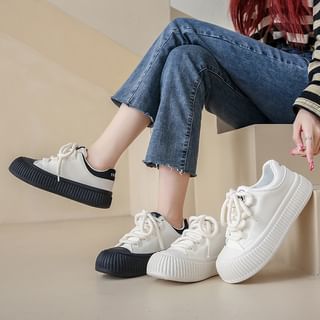 Platform Canvas Lace-Up Sneakers – $22.32
from: YesStyle.com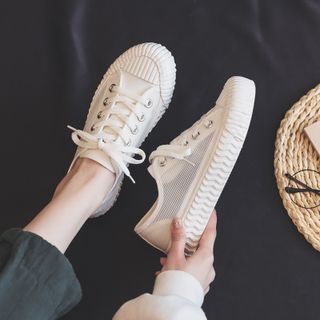 Mesh Lace-Up Sneakers – $30.50
from: YesStyle.com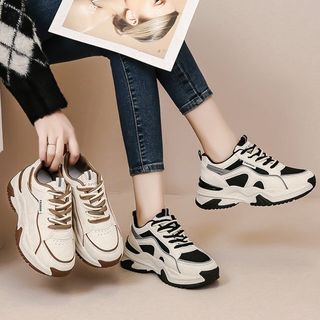 Two Tone Lace-Up Platform Sneakers – $29.50
from: YesStyle.com
https://www.koreanfashiontrends.com/wp-content/uploads/2023/11/KFT-The-KFT-Verdict-on-Korean-Pop-Stars-Favorite-Sneakers.png
295
795
Scarled Andrade
https://www.koreanfashiontrends.com/wp-content/uploads/2021/06/KoreanFashionTrendsLogoColor.Medium.png
Scarled Andrade
2023-11-16 12:00:09
2023-11-17 16:49:52
The KFT Verdict on Korean Pop Star's Favorite Sneakers