Why Should You Make Your Own Halloween Costume? 10 Best Korean Idol Halloween Costume Ideas
10 Best Korean Idol Halloween Costume Ideas. The Halloween excitement is building up! It's that time of the year when you can unleash your creativity and transform into someone or something entirely different. While store-bought costumes are convenient, there's something truly special about crafting your own Halloween ensemble. So today, at Korean Fashion Trends, we'll explore why making your own Halloween costume is a fantastic idea! Also, we'll draw inspiration from the world of Korean idols to help you get started. Ready? Let's dive in!
What Is the Importance of Halloween Costumes?
As always, before getting into the matter and diving deep into the Best Korean Idol Halloween Costume Ideas, first, there are some things that we need to clarify so that you can make the perfect costume for Halloween. Have you ever wondered what the importance of an Halloween costume is? Halloween costumes are an essential part of Halloween! Can you imagine Christmas without the Christmas tree? Of course not! The same thing happens with Halloween.
Furthermore, Halloween costumes don't just allow people to transform into fictional or scary characters. They also encourage the creativity and personal expression of each person on one of the most anticipated nights of the year! However, beyond that, tradition says that costumes are important on Halloween so that the spirits that wander around that night can mistake people for one of them. A little scary, don't you think? Nevertheless, it's a lot of fun! Click here to see the costume options you can find at YesStyle! That way, you can escape from the spirits on Halloween!
Why Should You Make Your Own Halloween Costume?
Because, making your own costume allows you to let your creativity expand. So, you're not limited to what's available in stores. You can bring any character or concept to life by getting creative! Also, a DIY costume is the perfect reflection of your unique personality and interests.
And, creating your own costume can be budget-friendly! Because, you can repurpose items you already have or find affordable materials to DIY your very own costume. Not to mention that the act of creating a personalized costume can become a fun shared experience with family and friends. So, you can enjoy the process together and connect! Also, If you're a K-Pop fan, what better way to express your love for Korean music than by dressing up as your favorite idol? So, take advantage of the Korean Idol Halloween Costume Ideas to get you creative this Halloween!
Do Halloween Outfits Have to Be Scary?
When buying or making a Halloween costume, a lot of people think it must be scary.
The truth is far from that! Although typical costumes are the scariest ones, that does not mean you can't wear a costume of a fantastic or mythological creature, such as a fairy or a mermaid.
Halloween is about releasing your creativity and expressing yourself through your costume! So no: your Halloween costume or outfit doesn't necessarily have to be scary. Do you want to dress up as a princess, butterfly, or even a kitten? You can do it. You set the limit!
What Do You Need to Make a Costume?
If you are wondering what to wear to Halloween parties, buying a costume is the easiest option. However, sometimes, we don't have the budget to buy the costumes of our dreams. What is the good news? That doesn't stop us from dressing up for Halloween! You can achieve the Halloween costume you want by making it yourself! We won't lie to you, though. It may be more or less difficult depending on the costume. What you need to do will also depend on the costume. You must consider materials such as fabric, cardboard, thread, needles, glue, paints, brushes, and scissors.
Also, you shouldn't forget about the accessories, which you can make yourself. And the footwear. The first step in making your Halloween costume is figuring out your dream costume.
Then, you can start searching for the materials you will need for its creation. However, don't lose sight of the materials that we already mentioned since they are usually the basics for any costume. Need costume ideas? In addition to the Best Korean Idol Halloween Costume Ideas that will be featured in this blog post, we also recommend clicking here to see our selection of costumes inspired by K-Drama characters! That way, you can wear a unique and different costume to your Korean Halloween party (we unveil how to prepare a spooky Halloween party in our previous post!)
If you want to enjoy Halloween 2023 in a grand way this year, we recommend clicking here to access the YesStyle catalog! There, you will not only find costumes and accessories to enjoy the Halloween parties, you will also find Korean fashion,beauty, and products. Click here and shop now!
Which Halloween Costume Is Easy to Make?
As you consider making your Halloween costume, you may wonder which is the easiest. So you can avoid complications when making a dreamy and functional costume to enjoy the Halloween parties.
Despite the infinite number of possibilities, among the easiest costumes are the typical cat, witch, vampire, and ghost costumes. Of course, everything will depend on your choices and preferences.
And also on how much creativity and time you put into your costume. Therefore, anything is possible when you have the materials and enough time to make your Halloween costume! Start now!
What Can You Wear to Halloween Without a Costume?
We almost forgot it! Among the easiest costumes to make are the Halloween costumes that you can create with a simple outfit! If you were invited to a Halloween party but you don't have a costume and don't want to make one, you can wear some basic clothes from your closet to achieve an appropriate outfit. When it comes to Halloween, it is best to combine clothing in black, white, orange, and green. You can wear all black and add a witch hat as a complement, or wear black jeans with a white shirt on which you can easily draw a skeleton with a marker. It's easy and fast! Also, you can dress up an outfit with these basic garments and focus on your makeup. A perfect zombie makeup is all you need to become a zombie. Wearing anything is fine, and older clothes are even better! So, there are no excuses to stop you from attending a Halloween party! Whether with a costume purchased, made, or improvised with clothes from your closet, you can enjoy Halloween to the fullest! Shop here!
10 Best Korean Idol Halloween Costume Ideas For Halloween 2023!
We've come a long way to get here! Finally, you will be able to know the Best Korean Idol Halloween Costume Ideas. That way, you can take inspiration from K-Pop idols to make your costume for this upcoming Halloween. Choose your favorite and recreate it as best you can. Let's dive in!
Girls' Generation's Sooyoung
Draw your inspiration from Sooyoung's iconic Halloween costume, where she recreated the character ''Sadness'' from Inside Out!
TWICE
TWICE constantly inspires! Whether you choose to mimic the costumes from their comeback eras or opt to dress up as the witches from Harry Potter like them, they serve as a constant source of inspiration.
ATEEZ
Transform into a swashbuckling pirate with ATEEZ's pirate-themed concept from their "WAVE" music video.
BTS
Recreate the iconic police-inspired looks from BTS's "Dope" music video. And this is not just iconic, it's also easy!
New Jeans
Draw your inspiration from New Jeans ''Super Shy'' MV and recreate their iconic looks this Halloween! All you need is a tennis skirt, knee-high college socks, your beloved Nikes, and an eye-catching colorful top! Click here to recreate the New Jeans members makeup from their latest album to achieve the perfect Halloween look!
BlackPink's Jennie
Jennie's brand new solo comeback ''You & Me'' is the best choice to stand out this Halloween! Jennie rocks the BalletCore style in ''You & Me'' performances. So, draw inspiration from her outfits to create the cutest Halloween costume!
BlackPink's Lisa
Draw your Halloween costume inspiration from BlackPink Lisa's ''Money'' MV. Lisa is seen sporting unique styles throughout the MV, so pick one that suits you the best for the perfect Halloween ensemble! However, you can also take inspiration from her Halloween costume and recreate Squid Game's creepy doll like her!
AOA
Emulate the sexy and playful vibe of AOA's "Like a Cat" music video this Halloween. Dress in sleek black outfits with cat ears and tails for a flirty and fun costume.
DAY6 
Create a unique and spooky romance by going as DAY6 members from their "Zombie" music video. This is a very classic and easy Halloween costume idea! Transform into zombies with torn clothing, pale makeup, and fake wounds.
Sunmi
Recreate the captivating and mysterious look from Sunmi's "Siren" music video. Dress as an ethereal siren with a flowing dress, sea-inspired accessories, and enchanting makeup.
Making your own Halloween costume is not as difficult as you think! Take the Best Korean Idol Halloween Costume Ideas as a reference. That way, you can achieve an ideal and creative costume to attend the Halloween party you have been waiting for so long! Enjoy Halloween without excuses! Subscribe to our newsletter to receive notifications of our updates. And don't forget to follow us on Facebook, Instagram, X, Pinterest, YouTube, Spotify, TikTok, and Twitch! Happy Halloween, K-lover!
October is not only the month of Halloween but also the month of autumn! Buy your Korean-style autumn outfits here! In addition to clothing and accessories, you can also get Korean beauty products. Take advantage of YesStyle discounts and shop here now!
Peak a boo and style like a fashionista!

Acrylic & Alloy Halloween Bracelet 1 Pc – Acrylic & Alloy Halloween Bracelet – One Size – $11.00
from: YesStyle.com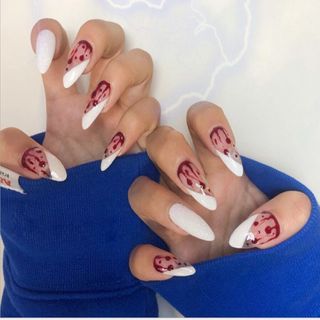 Halloween Pointed Faux Nail Tips JP844 – Halloween – One Size – $6.70
from: YesStyle.com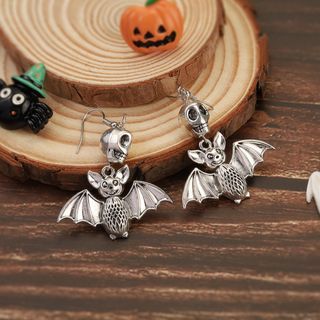 Halloween Drop Earring / Bat Layered Necklace – $4.50
from: YesStyle.com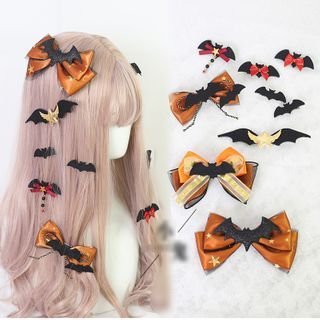 Halloween Bat Hair Clip (various designs) – $4.70
from: YesStyle.com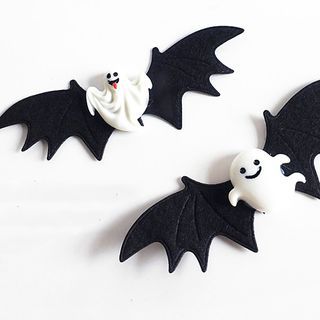 Halloween Bat Wing Hair Clip – $5.10
from: YesStyle.com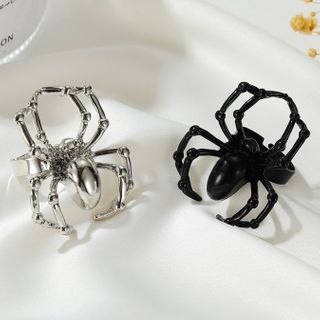 Halloween Alloy Spider Ring – $4.00
from: YesStyle.com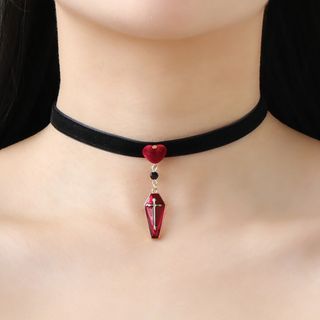 Halloween Pendant Velvet Choker (various designs) – $9.20
from: YesStyle.com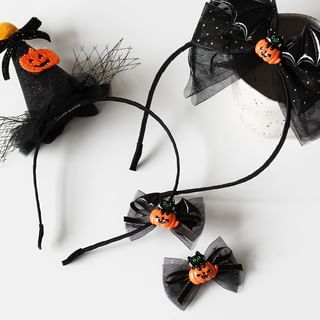 Halloween Acrylic Headband / Hair Clip / Set (Various Designs) – $7.90
from: YesStyle.com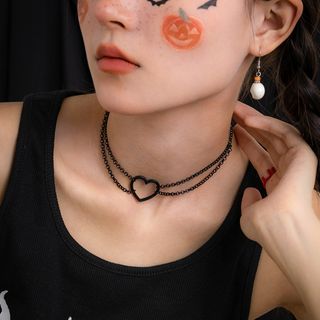 Halloween Heart Alloy Alloy Choker 5368 – Black – One Size – $4.40
from: YesStyle.com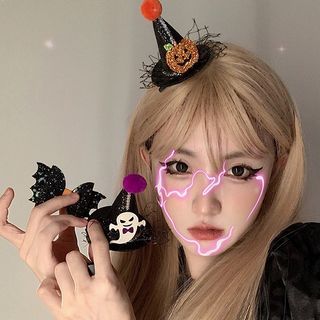 Halloween Headpiece Alloy Hair Clip – $4.90
from: YesStyle.com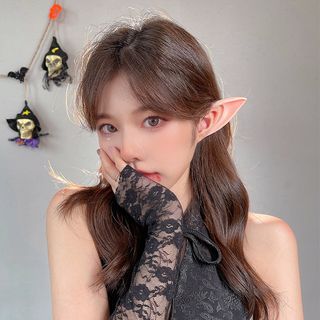 Halloween Party Cuff Earring / Headband / Hair Clip / Magic Wand (various designs) – $4.40
from: YesStyle.com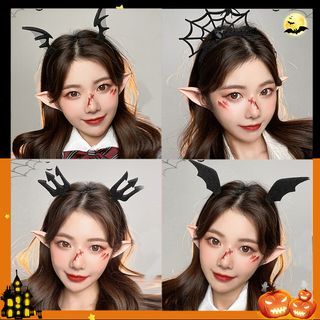 Halloween Necklace / Headband / Hair Clip (various designs) – $4.00
from: YesStyle.com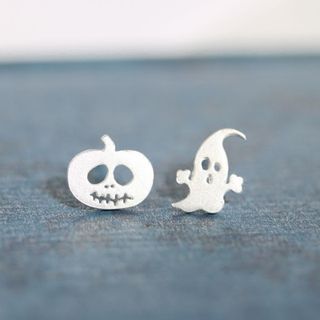 Halloween Ghost Asymmetrical Sterling Silver Earring 1 Pair – Silver – One Size – $4.60
from: YesStyle.com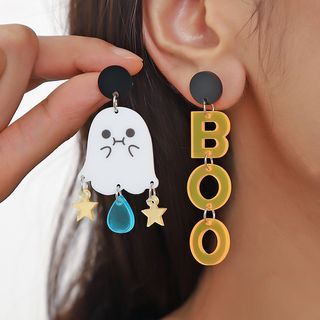 Halloween Ghost Asymmetrical Lettering Earring – $4.10
from: YesStyle.com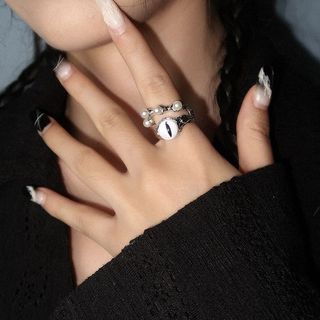 Halloween Cat Eye Open Ring Silver – One Size – $3.92
from: YesStyle.com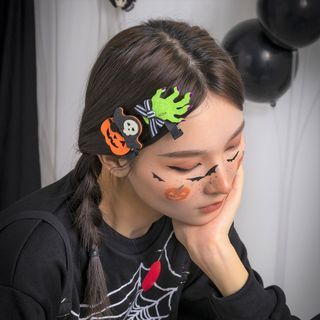 Halloween Hair Clip – $4.30
from: YesStyle.com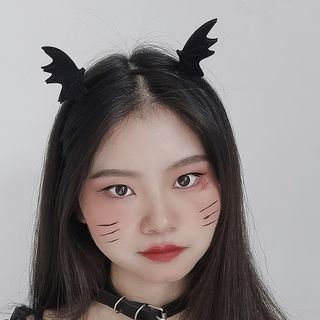 Halloween Bat Wings Hair Clip / Headband – $5.70
from: YesStyle.com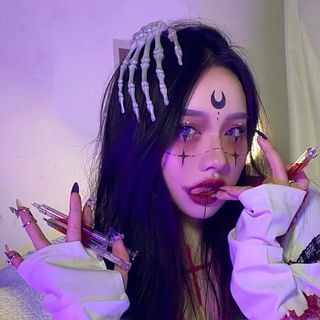 Halloween Skeleton Palm Hair Clip (various designs) – $6.00
from: YesStyle.com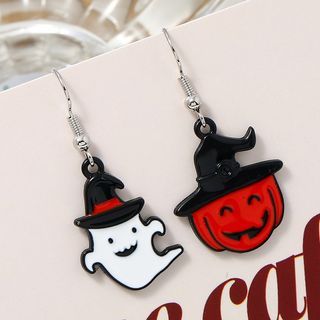 Halloween Ghost Cartoon Earring – $4.60
from: YesStyle.com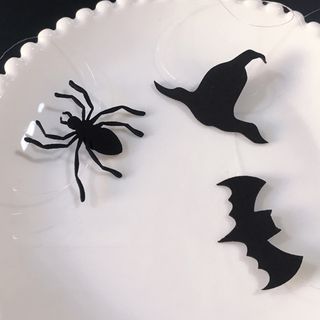 Halloween Spider / Bat / Witch Hat Choker – $7.40
from: YesStyle.com
https://www.koreanfashiontrends.com/wp-content/uploads/2023/10/KFT-Why-Should-You-Make-Your-Own-Halloween-Costume-10-Best-Korean-Idol-Halloween-Costume-Ideas.png
295
795
Scarled Andrade
https://www.koreanfashiontrends.com/wp-content/uploads/2021/06/KoreanFashionTrendsLogoColor.Medium.png
Scarled Andrade
2023-10-17 12:12:50
2023-10-19 14:23:14
Why Should You Make Your Own Halloween Costume? 10 Best Korean Idol Halloween Costume Ideas