Korean Height and Weight Charts
A Korean chart on ideal weight and height is very popular among the natives of the country. And for foreigners, it can be interesting to know the tables that Koreans use for their beauty standards. However, different charts depend on age and gender. So, if you intend to guide yourself with the charts to achieve weight like a Korean, we don't recommend following the figures that the charts show. So, let's discover the Korean height and weight charts at Korean Fashion Trends today!
Why Is a Good Physique so Important to Koreans?
Thousands of followers, especially followers of the most famous K-pop groups, try to imitate the rigorous, extreme, and almost always dangerous diets their idols carry out to be spectacular like them.
But why do idols go on such diets? Why do Koreans care so much about physique?
South Korea is a competitive country where having a good physique is essential, even to get a job: so much so that many girls, once they finish university, undergo plastic surgery as a graduation gift to help them make a more favorable impression on the labor market. And idols have a lot of pressure on their physical appearance. Because they must practically look perfect all the time.
It would be humiliating for them to get fat, and if they don't smile and entertain, judgments will also fall on them. So, there are many reasons why they follow such harsh meal plans. But, let's dive deeper to explore these diets and some relevant questions related to them.
Dangerous Korean Diets
Many dangerous diets have become famous in South Korea as a result of the pressure to attain an attractive image. For example, it was revealed that all girl-group Girls' Generation' diet consisted of eating only 800 calories a day. In general, if you are a woman, you should consume an average of 1,800 to 2,100 calories a day. While men should take a little more: roughly 2,000 to 2,400. But did you know that this is not even the most extreme diet? The Internet is full of websites that explain these weight loss plans.
Furthermore, one of those diets is also very famous. And it is called the "Cup Diet." It is a diet that consists of measuring the proportions of your food. Korean celebrities who practice this diet calculate the amount of food they put in a glass or cup before eating.
The concept is that, the diet will help you avoid unnecessary calories and excess food. Therefore, due to Korean weight loss plans like this, rumors about possible causes of idol anorexia emerged. Do you want to know more about this type of diet? If so, we invite you to visit the Korean Fashion Trends blog by clicking here. There, we explain in more detail what you need to know about these diets.
Harsh Korean Beauty Standards
Many people are victims of themselves when it comes to losing weight in Korea.
That includes K-pop idols. People in the public eye experience similar pressures as we do, but often on a much larger scale. The media, fans, and even their companies subject them to these harsh pressures.
As a result, they may resort to actions such as undergoing plastic surgery or adopting unconventional diets, particularly in Korea, where maintaining a good appearance is considered essential. Do you want to learn about some myths surrounding Korean diets? Scroll down and keep reading.
Is 50kg Fat In Korea?
The most frequently asked question when discussing the ideal Korean weight is whether 50kg is considered a plus size in Korea. Generally, 50kg is the ideal weight for Koreans.
Even less than that is seen as a good thing, or at least it is that way for those who aspire to be extremely thin to fit into beauty standards. For the same reason, a weight greater than 50 kg is considered overweight.
However, this may vary depending on the size of each person. Depending on your size, you should have a certain weight. If you check Korean height and weight charts, you can see what weight would be ideal in Korea based on your size.
 Does Fasting Help You Lose Weight?
People claim that starving oneself increases the likelihood of overeating. It assists in either avoiding snacking or simplifying the act of skipping meals. In addition, it helps you lose weight more easily by canceling calories. Consequently, individuals choose to skip breakfast without exercising any control.
However, there are diets like "Intermittent Fasting" you can follow instead, and without starving yourself. Because, the more you starve yourself, the more your body will try to hold onto fat. So, fasting may or may not help you lose weight. Because, if exercised wrong, it may end up making things more difficult. So, make sure to put your health first before diving into any Korean weight loss method.
Get instant free access to Korean Fashion Trends
We've collected trending styles you need to be aware of! Click here to get instant access for free now!
What Is a Healthy Weight in Korea?
Talking about healthy weight in Korea is a bit challenging because most people in Korean culture are not guided by what is healthy or not, but by what fits into Korean standards. However, if we leave the standards behind, we could say that the ideal Korean weight for women is 58kg and 73kg for men.
It doesn't matter if you're on a tight budget! You can shop Korean fashion now! Enough of postponing your dream of wearing one of the best styles that exist in fashion. If you click here, you can get discounts on Korean fashion and beauty products. Don't miss the opportunity and take advantage of the crazy prices that YesStyle has for you! Just click here!
What Is the Standard Weight for K-pop?
In the case of K-pop idols, beauty standards practically become a requirement in their contracts. Therefore, many of them take the Korean height and weight charts very seriously.
Anyway, whether male or female, K-pop idols should not exceed 47kg, or at least that is the ideal.
However, as we said before, everything also depends on the size of each one. Sadly, many K-pop idols feel a lot of pressure to fit into Korean beauty standards, which is why many suffer from eating disorders. It is a reflection of Korean society.
Should You Restrict Food to Achieve Korean Weight Standards?
Eating just celery or carrots all the time will make you lose weight quickly, yes. However, this diet is boring and is more likely to make you want to eat more. Too many fast diets, like juicing, can cause you to lose weight quickly.
But without learning how to maintain healthy patterns, you won't be able to maintain that weight. For example, when idol Xiumin from EXO revealed that he had starved himself to the point of exhaustion, he quickly regained the weight. So, it would help if you steer clear of rapid diets. All they will do is help you lose water weight instead of fat. So, do not restrict your food intake. Instead, try to eat a more balanced diet for a healthier lifestyle.
 Should You Avoid Eating After a Certain Time?
Calories are calories. It doesn't matter if you eat that box of cookies at 3 p.m. or 11 p.m. If you eat a lot, trust me: it will still be too much no matter what time it is. So, as long as you are eating a balanced diet, it does not matter when you eat your last meal.
Are There Better Alternatives to Dangerous Korean Diets?
If you want to follow a diet from the Far East, keep in mind that they have a powerful rebound effect. However, a healthy diet based on Korean products can help you lose those extra pounds. And there are a few simple changes you can do! With kimchi, the base of the diet is vegetables and rice, as well as spicy soups.
The latter is a great ally, as it helps you stay slim and speeds up your metabolism. And the kimchi is essential. It is a fermented food based on dehydrated Chinese cabbage with salt that is also spicy. Say goodbye to sweets and bread and opt for boiled food instead of fried, because that way you eat much less fat.
What Is Your Best Option to Lose Weight Fast?
If you want to lose weight, do things with your head. Miracle diets don't work, and they also put your health at risk. So, create a solid workout routine that combines cardio and builds strength, follow a balanced eating plan where you eat less than you spend, and put aside protein shakes and foods that you need to measure in a little cup.
Staying healthy and energetic is what matters in the long run. Always remember that dieting and exercising combined is the best way to lose weight and build muscle. And you can do this with gradual changes to develop a routine and good habits. Also, the flexibility and diversity of foods and exercises help your body avoid boredom and stagnation. For more information on how to lose weight and the right way to reach your ideal weight, visit Korean Fashion Trends! Because we explain more about the best options for quick and stable weight loss.
Korean Height and Weight Charts!
If we remember that Koreans always want to look good, it is not strange that there are these Korean weight and height charts.
With them, Koreans are guided to know the ideal weights and heights. Take a look to check the difficulty of its standards, compare them with the American charts, and guide yourself by the healthiest one.
Now that you know some Korean weight and height charts, feel free to compare the measurements with those indicated by the Western charts and guide yourself only with the one that best suits your needs. Don't push yourself too hard. Also, remember that you can visit us daily to keep up with Korean fashion news.
Never miss a sale! Click here to buy Korean fashion! That way, you can find discounts on Korean fashion and beauty that YesStyle has for you. Shop here and be a Korean fashionista by investing a little money! Don't want to miss any information about K-fashion? Subscribe to our newsletter by clicking here.
Photo By: WeightLossLook
The best sporty styles!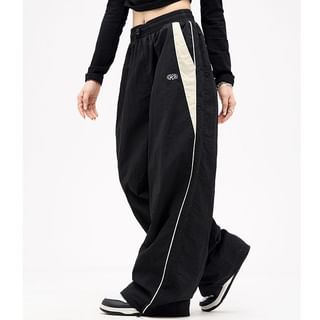 Low Waist Color-Block Loose-Fit Wide-Leg Sweatpants – $13.52
from: YesStyle.com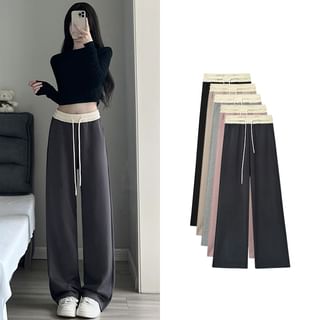 Paneled High Rise Drawstring Pocket Wide Leg Sweatpants – $21.60
from: YesStyle.com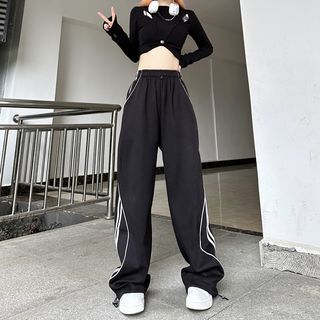 Elastic Waist Striped Side Sweatpants – $27.28
from: YesStyle.com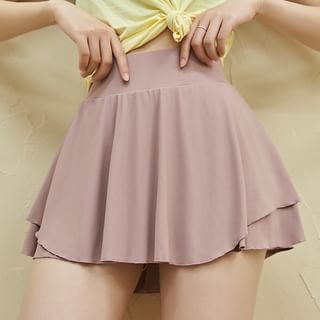 A-Line Sports Skirt – $16.32
from: YesStyle.com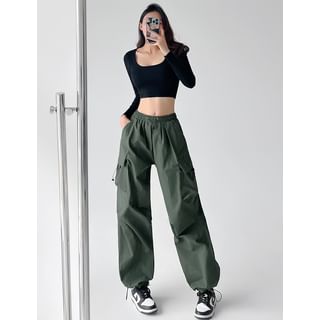 Outdoor Wide-Leg Cargo Jogger Pants in 5 Colors – $21.60
from: YesStyle.com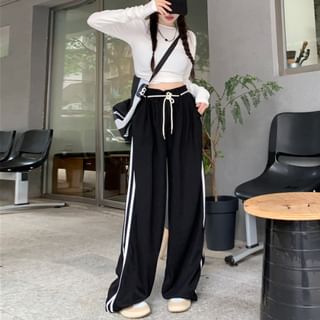 Long-Sleeve Round Neck Plain Cutout Crop Tee / Drawstring Waist Striped Wide Leg Sweatpants – $18.64
from: YesStyle.com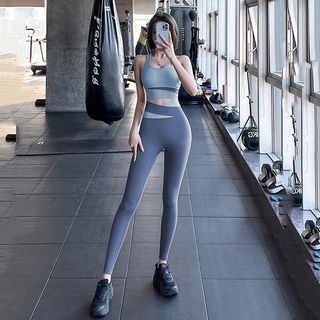 Set: Sports Camisole Top + Yoga Pants – $14.75
from: YesStyle.com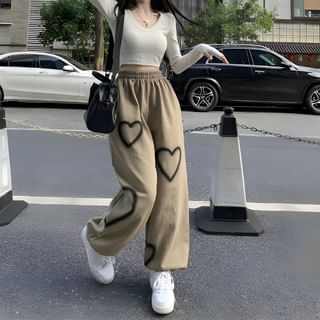 Long-Sleeve V-Neck Lettering Embroidered Crop T-Shirt / Elastic Waist Heart Print Harem Sweatpants – $19.28
from: YesStyle.com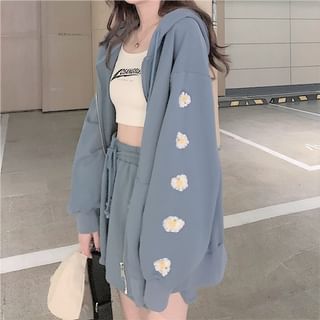 Daisy-Embroidered Oversized Hoodie / High-Waist Drawstring Sweatshorts – $15.00
from: YesStyle.com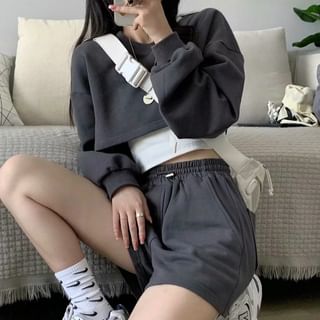 Set: Round Neck Plain Crop Pullover + Drawstring Waist Sweat Shorts – $19.80
from: YesStyle.com
https://www.koreanfashiontrends.com/wp-content/uploads/2021/07/KFT-Korean-Height-and-Weight-Charts.png
295
795
Scarled Andrade
https://www.koreanfashiontrends.com/wp-content/uploads/2021/06/KoreanFashionTrendsLogoColor.Medium.png
Scarled Andrade
2021-07-22 13:56:14
2023-11-07 17:37:49
Korean Height and Weight Charts