Colors in trend in fall 2022 according to Korean fashion
Colors in trend in fall 2022 according to Korean fashion. Do you want to start building your fall 2022 wardrobe with seasonal colors according to Korean fashion? Then this is your chance! Yes, in K-fashion, classic and neutral colors are the must of all seasons. However, that doesn't mean you can't use other colors. Also, autumn should not be synonymous with darkness. At least as far as outfits are concerned. Some trend colors for this fall 2022 will also be a hit in spring and summer. Fuchsia and lilac will continue to be in fashion and share the limelight with other daring colors full of energy, such as red in its most vibrant version and green. Aren't these colors usually your first choice? Don't worry. Today in Korean Fashion Trends, we will talk about colors in trend in fall 2022 according to Korean fashion. We give you practical and easy tips to show off the season's colors, whatever your style and colorimetry. Are you ready? Let's get started!
5 colors in trends in fall 2022 according to Korean fashion
When we want to dress well, it's not just about choosing the right clothes, accessories, cuts, and prints. It is also about knowing how to wear the colors that benefit us and those in trend. For this reason, today, we present five colors in trend in fall 2022 according to Korean fashion. So you can add to your closet garments in the colors that stand out the most during this season at K-fashion. Also, remember style advice is a way to update your wardrobe and try new clothes and colors, either in small doses or in full glory. Here we go!
1. Green
We start this list of colors in trend in fall 2022 according to Korean fashion with the color green. If blue is always present in your wardrobe, green must also have a space this season.
Bright green is nature and hope and also conveys tranquility. Grass green is the best alternative to more classic colors like blue or black. Also, the winning combination is white or denim with a green garment.
However, you can also dare to mix green with lilac. But who looks great in green? People with spring colorimetry of red or blonde hair and warm skin tones. Another outfit that you can try is a green top with your favorite jeans. Add an elegant touch with a blazer. Also, you can add personality to the look with green and gold accessories and oversized sunglasses.
2. Fuchsia
The second color in this list of colors in trend in fall 2022 according to Korean fashion is fuchsia. This year, pink will be worn in its most striking, lively, and fluorescent version—almost neon. Fuchsia is a vibrant, hypnotic color that invites optimism.
For that reason, you can go for it if you want to give your style an energy boost. You can combine it with other bright colors. But also with neutral tones. It is a versatile eye-catcher because it works well with many other colors. So it is often easy to combine. That is why it is part of the favorites of K-fashion during the fall.
If you dare, wear it in a total look. But if you also have winter colorimetry, it will be a great success to get clothes of this color. You can mix more summery clothes. A floral print skirt with warmer ones like a knitted sweater. Do you want to play with the layers in the Korean style? Add a fuchsia top to your outfit.
Don't want to miss any information about K-fashion? Subscribe to our newsletter by clicking here.
3. Red
According to Korean fashion, we continue with this list of colors in trend in fall 2022. Now is the opportunity for the color red. Red is intense and energetic. It is one of the most iconic colors in the world of fashion, and there are endless ways to wear it.
This year, two shades of red will be the protagonists. They are deep red and wine red. The intense red will bring energy to your looks.
In comparison, wine red is elegant, chic, and perfect for velvet garments in dresses or coats. Choose it if your colorimetry is warm and autumnal. You can combine passion red in a casual look. Get a pair of red pants, whether they are jeans or another cut that goes well with your silhouette. Combine it with a t-shirt. You can add another layer with a denim shirt and give this outfit an extra chic touch with passionate red lipstick. This outfit is ideal if you want to transmit energy and your personality.
4. Brown
According to Korean fashion, Brown is also part of this list of colors in trend in fall 2022. Brown is another alternative to black. That is, it is just as classic and elegant.
This color is also chic and perfect for any occasion. In all its versions, Brown is a versatile tone that will give you a lot of play. Try the whiskey tone and combine it with red, pink, lemon yellow, and even mint green. You can evoke summer looks by mixing colors and letting your imagination run wild.
Also, you can play with different shades of Brown. A dark animal print skirt with a light brown blouse will be the basis of the look. Accentuate your waist by wearing the blouse inside the skirt and go for gold accessories. You can give an extra point of elegance to the combination with beige heels and a trench coat.
5. Very peri
We end this list of colors in trend in fall 2022 according to Korean fashion with the very peri. If you feel like something new now, try the lilac.
Sometimes we stay in our comfort zone when it comes to style. Lilac will get you out of it, but it will be worth it. It is a feminine color and one of the most chosen this year. For that reason, this fall-winter will also take. It will be your color if your colorimetry is summer. Combine it with white, beige, brown, or denim if you want to go more casual.
Do you want to wear an ultra-trendy combination? Mix with lime green or orange. You can combine a lilac top with high-waisted green pants, such as mom or baggy jeans. That way, you will achieve an extra sophisticated look. A blue biker, a silver necklace, and some basic white sneakers will finish elevating your image.
The colors in trend in fall 2022 according to Korean fashion, are the shades that will be your best allies this season. Add garments and accessories in these colors to make your outfits the best. Which of these colors is your favorite? We hope you can add it to your fall outfits. See you in the following Korean fashion trends blog!
You can subscribe to our newsletter by clicking here to stay tuned with Korean Fashion Trends.
Style yourself!
Dress fashionable for your dream date!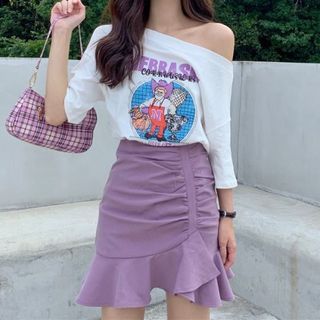 Elbow-Sleeve Graphic Print T-Shirt / Mini Mermaid Skirt / Set – $32.00
from: YesStyle.com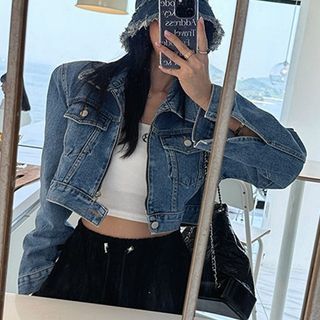 Pocket Detail Denim Cropped Zip Jacket Denim Blue – One Size – $40.20
from: YesStyle.com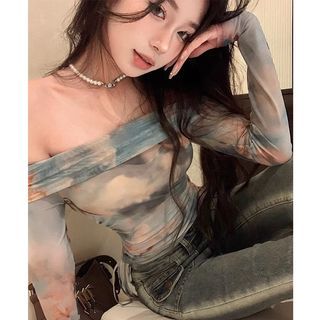 Long-Sleeve Off-Shoulder Graphic Print Drawstring T-Shirt Gray & Blue – One Size – $16.00
from: YesStyle.com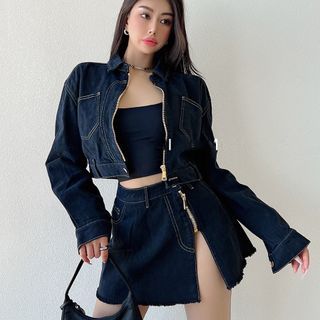 Zip Crop Denim Jacket / A-Line Slit Denim Skirt – $41.60
from: YesStyle.com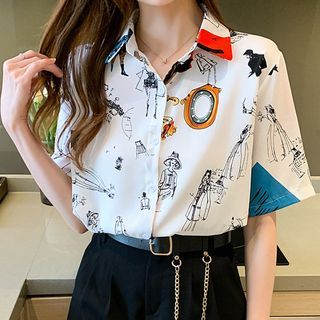 Elbow-Sleeve Graphic Print Shirt – $16.60
from: YesStyle.com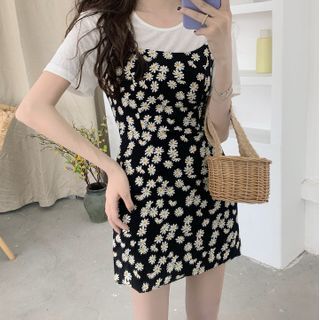 Flower Print Spaghetti Strap Mini Sheath Dress – $19.10
from: YesStyle.com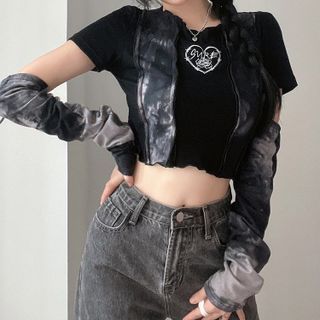 Graphic Paneled Short Sleeve T-shirt + Arm Sleeve – $6.12
from: YesStyle.com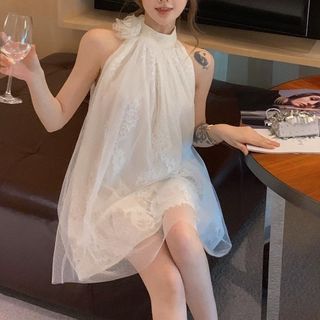 Sleeveless Mock Neck Flower Accent Mesh Panel Lace Mini A-Line Dress Almond – One Size – $30.30
from: YesStyle.com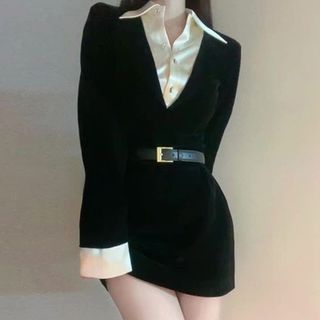 Long-Sleeve Collared Mock Two Piece Mini Sheath Dress – $22.80
from: YesStyle.com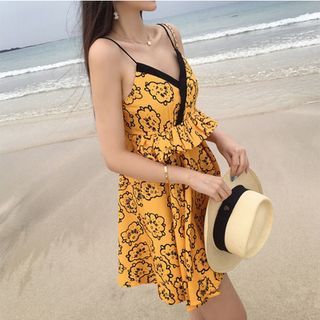 Spaghetti Strap Flower Print Mini A-Line Dress – $18.60
from: YesStyle.com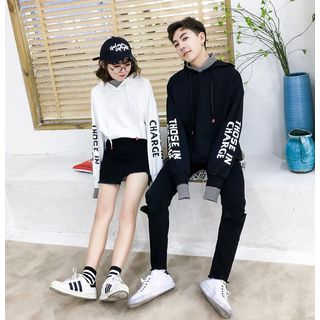 Couple Matching Letter Mock Two-piece Long-Sleeve Sweatshirt – $25.60
from: YesStyle.com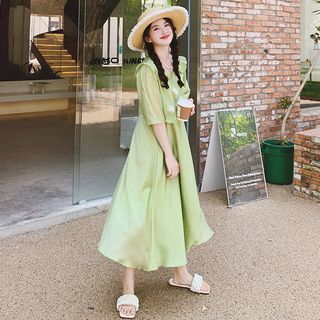 Short-Sleeve Flower Detail Ruffle Midi Smock Dress – $53.20
from: YesStyle.com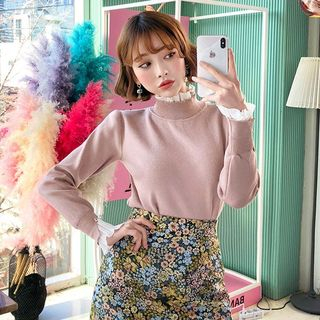 Mock-Two Piece Long-Sleeve Lace Dress – $25.00
from: YesStyle.com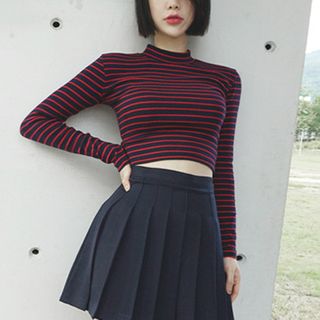 Mock Turtleneck Long-Sleeve Striped Crop Top Red Stripe – Dark Blue – One Size – $12.20
from: YesStyle.com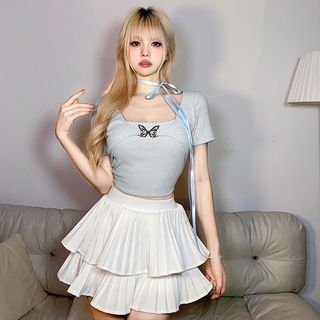 Short-Sleeve Mock Two-Piece Butterfly Accent Cropped T-Shirt – $19.70
from: YesStyle.com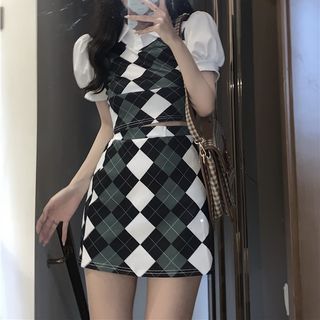 Puff-Sleeve Argyle Crop Top / Mini Pencil Skirt – $18.10
from: YesStyle.com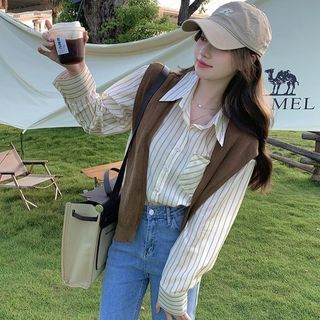 Mock Two-Piece Long-Sleeve Striped Shirt – $23.20
from: YesStyle.com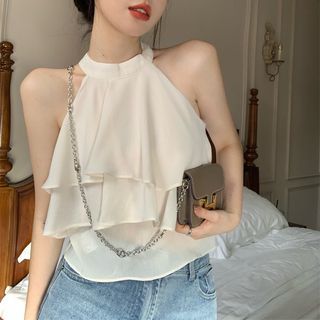 Sleeveless Layered Crop Top – $18.50
from: YesStyle.com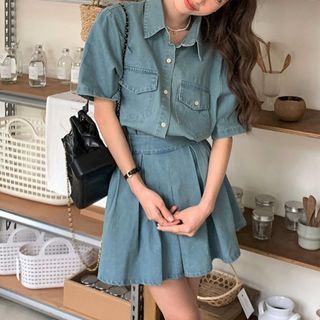 Set: Short-Sleeve Plain Denim Shirt + Mid Rise Pleated Denim Mini A-Line Skirt – $36.70
from: YesStyle.com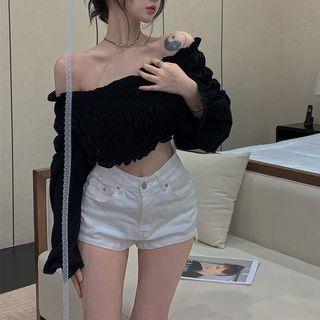 Long-Sleeve Off Shoulder Frill Trim Plain Crop Top Black – One Size – $20.30
from: YesStyle.com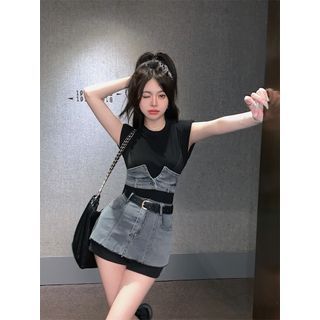 Cap-Sleeve Crew Neck Plain Denim Panel Tee / High Waist Mock Two-Piece Denim Skort – $25.80
from: YesStyle.com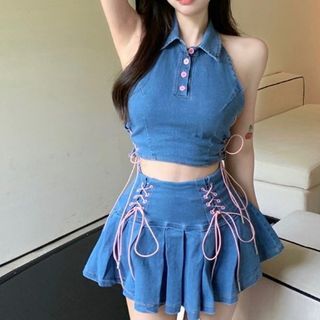 Halter-Neck Lace-Up Crop Denim Top / Pleated A-Line Denim Skirt – $26.60
from: YesStyle.com
https://www.koreanfashiontrends.com/wp-content/uploads/2022/09/Korean-Fashion-Trends-Colors-in-trend-in-fall-2022-according-to-Korean-fashion.png
290
795
Scarled Andrade
https://www.koreanfashiontrends.com/wp-content/uploads/2021/06/KoreanFashionTrendsLogoColor.Medium.png
Scarled Andrade
2022-09-22 08:53:42
2023-10-12 17:16:28
Colors in trend in fall 2022 according to Korean fashion