Korean Fashion Tips: how to choose the right jeans according to K-Fashion 
Korean Fashion Tips: how to choose the right jeans according to K-fashion? Jeans have been the kings of our wardrobe for years, and although they are very versatile, sometimes it is hard to choose the right one and combine it in the right way. However, in general, the ease this garment offers us to mix allows us to create suitable outfits for almost all occasions. But there are so many models that we find today that it is not always easy to know how to choose the perfect jeans. We must always consider that our body is what it is and that we must know it well. But it is also true that if we choose the right clothes, we can always create an optical effect that helps us highlight the strengths of our physique and hide those aspects that we like the least. In Korean fashion, there are many outfits where jeans are the star. If you want to know how to choose the right jeans according to Korean fashion, stay with us. Here we go!
2 Tips for choosing jeans according to Korean fashion
In these Korean Fashion Tips: how to choose the right jeans according to K-Fashion, we will explain how to get it right when choosing your jeans. Although it sounds very elementary, if they are going to be the basic garment in our wardrobe, it is more than likely that their use will be very intensive. For that reason, you should feel comfortable with them. If there is a garment we can't buy without necessarily going through the fitting room, it is this one. And when it comes to choosing the right jeans according to Korean fashion, we must always take into account two things: their color and the model according to the cut and pattern. Depending on how we are morphologically speaking, some models will favor us more or less.
THE COLOR
Although we focus only on the range of blues, the possibilities we find today in jeans colors are endless.
From the perfect or darkest blue of all, going through all types of lightening, either by subjecting the denim to different washing processes, by applying acids, etc.
In this case, the golden rule is simple, the darker they are, the more stylized or thin your figure will be.
CUT AND PATTERN
Korean Fashion Tips: how to choose the right jeans according to K-Fashion? You need to consider the cut and the pattern, in addition to the color, as we said previously.
So once we are clear about the color we want to choose for our jeans, we need to find the most suitable model.
You always consider three factors: the size of the model and the length and leg of the same.
The three aspects have a decisive influence on how they are going to sit on us, and above all, on how we are going to see ourselves with them on.
What jeans can you wear?
One of the questions that arise when we wonder how to choose the right jeans is what jeans can we wear. Should we opt for a high-waisted model? Some skinny? Wide leg or mom jeans? You should consider if you have a lot of curves in the abdomen or not. If you identify yourself as a woman with curves or wide hips, you should opt for a model that doesn't precisely enhance that. So avoid the tightest and most elastic models. Straight models that fit from the hip to the knee and then fall without any curve can be a good choice.
You must opt for a model with a medium-high rise since low shots increase the hips. But if you have a little hip, and not too much curve, the choice will be the opposite. The tighter skinny or skinny-cut models will favor you more. Opting for a model that accentuates the hips due to its darts and extra pockets can help you balance your silhouette. For this reason, the models with pockets on the back will help your butt stand out a little more.
3 types of jeans that you can use in your Korean fashion outfits
How to choose the right jeans according to K-Fashion? After knowing the tips for choosing jeans and what jeans to wear, it is time to learn about three types of jeans you can include in your Korean fashion looks.
BOYFRIEND JEANS
This style of jeans are some of the most popular among Korean fashionistas for a few years now. Boyfriend jeans are baggy at the hips and down the leg, high-waisted, and rolled up at the ankle.
In addition, they highlight the rear if we don't choose a model that is too wide. These jeans are called boyfriend jeans because they are wide and look like they came out of a man's closet.
There are other variants, such as the girlfriend and the mom jean, which are a little tighter. You can combine them with tops, t-shirts, and loose shirts.
They are jeans that stand out a lot in Korean street fashion.
FLARE JEANS
This cut of jeans is very similar to the bootcut. But what is the main difference? The flare jeans start to flare out from under the butt, and the boot is wider.
In many ways, flare jeans are reminiscent of the famous '70s bell bottoms. But these jeans flatter just about every silhouette, but they look perfect on tall women.
In addition, they are perfect for concealing curves or optically reducing the size of the thigh. It is preferable to wear them with classic heels to avoid shortening the figure.
If you mix them with a white shirt and a blazer, you can get a sophisticated Korean fashion look.
MOM JEANS
Mom jeans are high-waisted and almost always in a light shade of denim. But many will say that mom jeans fall straight on the legs.
However, there is already an infinity of silhouettes that can fit into the category of these pants, as long as they keep a high waist: flared, baggy, and balloon are some of the most popular variations.
Mom jeans are one of the favorites of Korean fashion. Stylizing them is not very difficult since they are versatile.
You can wear it with blouses, tops, hoodies, etc. With them, you can achieve great casual outfits.
Korean Fashion Tips: how to choose the right jeans according to K-Fashion? You need to know your body and define which jeans will flatter your figure the most. After this, choosing and combining them will be a piece of cake. Do you already know which are the ones that best fit you? What is your favorite? Tell us in the comments. See you soon!
Find the best jeans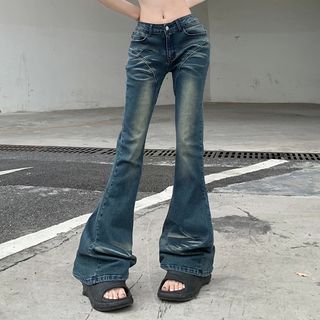 Low Waist Washed Slim-Fit Boot-Cut Jeans – $24.08
from: YesStyle.com

Low Waist Washed Paneled Wide Leg Jeans – $27.52
from: YesStyle.com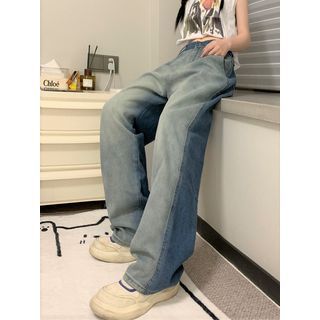 Low Waist Washed Wide Leg Jeans – $26.08
from: YesStyle.com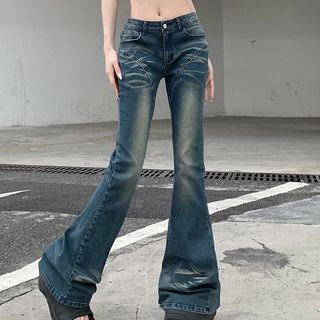 Low Waist Washed Slim-Fit Boot-Cut Jeans – $22.96
from: YesStyle.com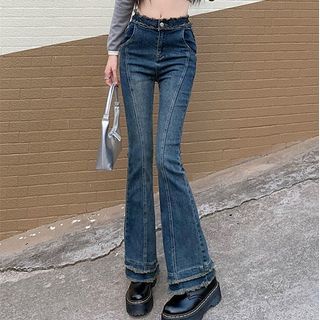 Low Waist Tassel Trim Washed Bootcut Jeans – $21.44
from: YesStyle.com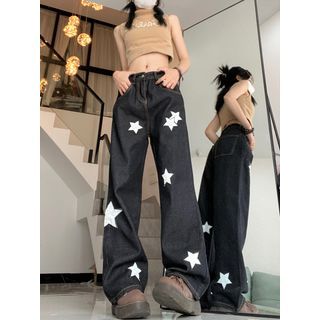 Low Waist Star Applique Washed Wide Leg Jeans – $27.52
from: YesStyle.com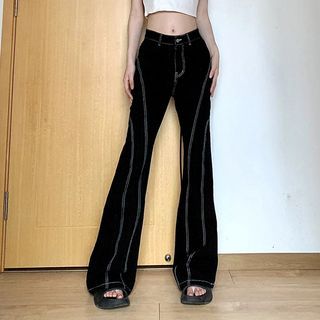 Low Waist Slim-Fit Boot-Cut Jeans – $24.08
from: YesStyle.com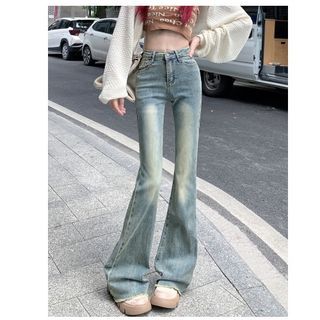 Low-Waist Washed Bell-Bottom Jeans – $23.36
from: YesStyle.com

Low Waist Star Embroidered Washed Wide Leg Jeans – $25.52
from: YesStyle.com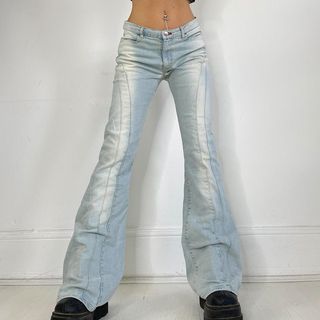 Low Waist Washed Bootcut Jeans – $25.84
from: YesStyle.com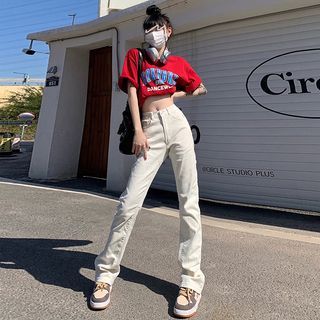 Low Waist Bootcut Jeans (Various Designs) – $23.76
from: YesStyle.com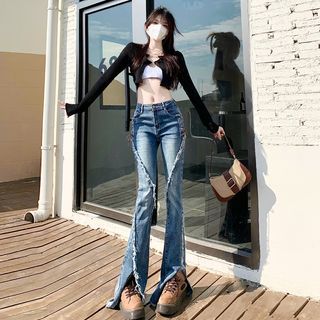 Low Waist Washed Slit Tassel Trim Bootcut Jeans (Various Designs) – $25.44
from: YesStyle.com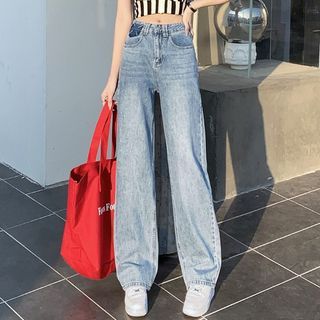 Low Waist Washed Wide Leg Jeans – $28.08
from: YesStyle.com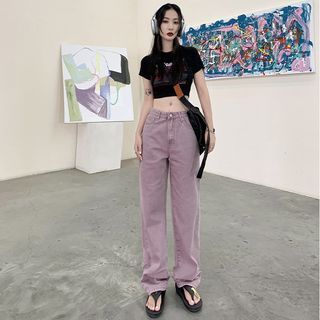 Low Waist loose Fit Jeans – $24.40
from: YesStyle.com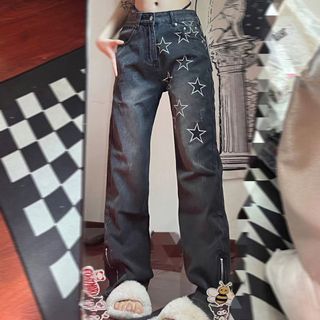 Low Waist Washed Star Embroidered Zip Detail Distressed Wide Leg Jeans – $27.28
from: YesStyle.com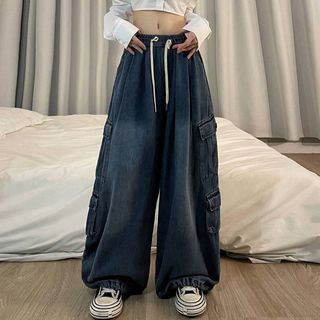 Low Waist Pocket Detail Washed Wide Leg Jeans – $26.24
from: YesStyle.com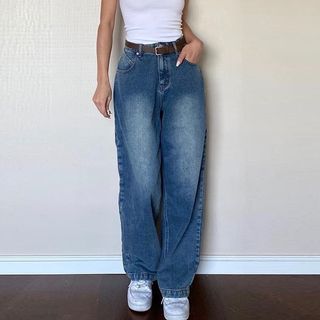 Low-Waist Washed Straight-Cut Jeans – $25.52
from: YesStyle.com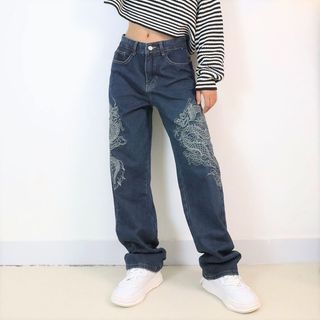 Low-Waist Dragon Embroidered Jeans – $26.00
from: YesStyle.com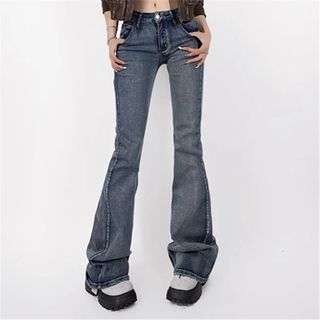 Low Waist Washed Slim-Fit Boot-Cut Jeans – $28.80
from: YesStyle.com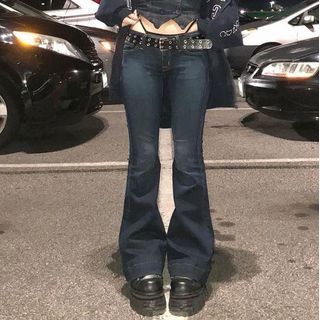 Low Waist Slim-Fit Wide-Leg Jeans – $28.56
from: YesStyle.com
https://www.koreanfashiontrends.com/wp-content/uploads/2022/08/Korean-Fashion-Trends-Korean-Fashion-Tips-how-to-choose-the-right-jeans-according-to-K-fashion.png
290
795
Scarled Andrade
https://www.koreanfashiontrends.com/wp-content/uploads/2021/06/KoreanFashionTrendsLogoColor.Medium.png
Scarled Andrade
2022-08-25 10:02:56
2023-11-06 13:19:52
Korean Fashion Tips: how to choose the right jeans according to K-Fashion