BTOB Parts Ways With Cube Entertainment After 11-Years
Not only we started the new week with the news that the Pentagon's Hongseok has left Cube Entertainment, but also, it was revealed that BTOB Parts Ways With Cube Entertainment After 11-Years! After a long career in the Korean music industry, BTOB finally says goodbye to Cube Entertainment, the agency that has accompanied them for eleven years. So, the Korean Fashion Trends team put together everything known so far about BTOB and the group's departure from Cube Entertainment. Find out everything you need to know by scrolling down!
BTOB Leaves Cube Entertainment
On Monday, November 6, it was announced that BTOB Parts Ways With Cube Entertainment After 11-Years. Following a statement, Cube Entertainment commented that they had a long and careful conversation with the BTOB members before the expiration of their second exclusive contract. As a result of those conversations, Korean boy-band BTOB's contract was not renewed. Accordingly, BTOB's Seo Eunkwang, Lee Minhyuk, Lee Changseop, Lim Hyunsik, Peniel, and Yook Sungjae conclude their 11-year association with Cube Entertainment.
Click here to buy Korean fashion! That way, you can find discounts on Korean fashion and beauty that YesStyle has for you. Shop here and be a Korean fashionista without breaking the bank! Shop now.
What's Next in BTOB's Future Projects?
BTOB Parts Ways With Cube Entertainment After 11-Years. If you seek an answer to when did BTOB debut, let's discover a bit about BTOB now. BTOB made their debut with 'Secret' on March 21, 2012. Since then, they have established themselves as a boy group that represents the third generation of K-pop.
In the statement made by Cube Entertainment about the termination of the exclusive contract with the group, the agency stated that the relationship between Cube and BTOB has unfortunately come to an end. However, they also stated that they will sincerely support the bright future of BTOB because they have infinite potential. After this announcement, doubts about the group's future arose. However, it is too early to know. For now, we can only wait for further news to be revealed.
BTOB Parts Ways With Cube Entertainment After 11-Years! BTOB's exclusive contract with Cube Entertainment has ended! And all members of the group have decided to terminate their exclusive contracts. Which means, after many years, BTOB is finally saying goodbye to the agency they have been with for the past 11 years. What do you think about this? Tell us in the comments! And don't forget to subscribe to our newsletter to stay connected with our news updates and discounts on Korean fashion. Additionally, you can follow us on Facebook, Instagram, X, Pinterest, YouTube, Spotify, TikTok, and Twitch to be part of our community! See you in the upcoming Korean Fashion Trends blog! The Christmas holidays are coming! Enjoy Christmas by taking your Korean style to another level. Just have to click here to access YesStyle's crazy prices on Korean fashion and beauty products. Take advantage of the discounts here! Shop now.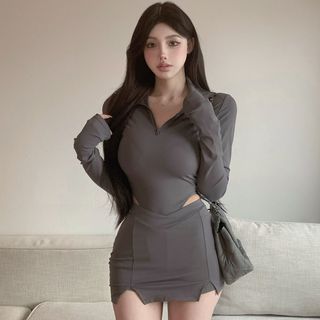 Long-Sleeve Collar Plain Half-Zip Bodysuit Top / Mid Rise Slit Mini Pencil Skirt – $23.00
from: YesStyle.com
https://www.koreanfashiontrends.com/wp-content/uploads/2023/11/K-News-BTOB-Parts-Ways-With-Cube-Entertainment-After-11-Years.png
295
795
Scarled Andrade
https://www.koreanfashiontrends.com/wp-content/uploads/2021/06/KoreanFashionTrendsLogoColor.Medium.png
Scarled Andrade
2023-11-06 14:58:04
2023-11-06 14:59:17
BTOB Parts Ways With Cube Entertainment After 11-Years